Ballots are ready, but advance voting for the city primary elections is off to a slow start.
Douglas County Clerk Jamie Shew said Friday that just five people had cast advance ballots.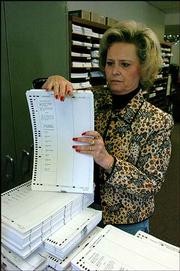 "And all five of them work in the courthouse," he said.
Advance voting for local elections began Wednesday at the courthouse, 1100 Mass. Douglas County has two primary elections set for March 1. The Lawrence City Commission race needs to be narrowed from nine to six candidates and a Baldwin school board race has six people vying for one seat. Advance mail ballots also are being sent out to people in the community.
Monday is the last day people can register to vote in the primary elections.
Shew said he was expecting a 25 percent turnout for the local primaries based on the 2003 city election. During that election, 23 percent of 47,109 registered voters in Lawrence cast ballots.
He predicted stronger turnout for the general city election April 5. The general election ballot includes questions for the Lawrence public schools' proposed bond issues and a proposed constitutional amendment to ban same-sex marriage.
In addition to preparing for the city elections, Shew said, he also has been reviewing the 2002 federal Help America Vote Act. Requirements of the act must be implemented by 2006.The act requires that every polling site have at least one voting machine designed specifically for the disabled. There also must be another machine on site to alert voters if they improperly filled out the ballot.
Both machines will cost the county $800,000 to $1 million -- unless the state or federal government offer assistance.
Kansas has received about $27 million in federal funding to implement the Help America Vote Act requirements, said Jesse Borjon, spokesman for the Kansas Secretary of the State office.
But Congress has yet to fully fund the mandate and is about $800 million shy nationally of doing so, Kansas Secretary of State Ron Thornburgh said Friday.
Advance voting is available between 8 a.m. and 5 p.m. Mondays through Fridays at the Douglas County Courthouse, 1100 Mass.The Courthouse also will be open until 7 p.m. on Feb. 24 and from 10 a.m. to noon on Feb. 26 for advance voting.Voters should bring a form of identification. They can use utility bills, bank statements, paycheck stubs, passports, a current driver's license and military or student IDs.
Copyright 2018 The Lawrence Journal-World. All rights reserved. This material may not be published, broadcast, rewritten or redistributed. We strive to uphold our values for every story published.