One of the best inside players in the country, Kansas University senior Wayne Simien has drifted outside to drill three of eight three-point tries this season.
The 6-foot-9, 255-pounder's performance from beyond the arc could be even more impressive, Simien says, if not for a tiny problem.
His feet have "toed the line" on several of his long-distance tries.
"The coaches and players have been giving me a lot of heat about that," said Simien, who hit a three in the second half of KU's 74-65 victory Wednesday over Kansas State at Bramlage Coliseum.
"I should have had six or seven (threes) this year. But I'm pigeon-toed, so my toe keeps going on the line. They've been busting my chops about that."
A 54.9-percent shooter, Simien has the green light to fire away from anywhere on the court. Same goes for two of the Jayhawks' other main offensive weapons, Keith Langford and J.R. Giddens, who along with Simien accounted for 65 of KU's 74 points and took all but nine of the team's shots at K-State.
That kind of production from the three is not surprising.
"No, not at all," Simien said. "We're the bulk of the scoring threat on our team. Coach sets things up so we take all the shots."
Langford scored 24 points off 8-of-14 shooting, while Simien scored 23 off 8-of-16 and Giddens 18 off 7-of-10.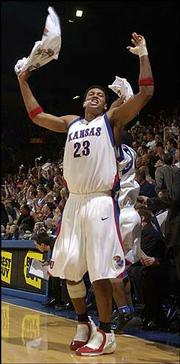 Langford had his second big game in the row. He potted 27 points Saturday at Nebraska.
"Keith has been on a mini-roll now putting back-to-back games together like that," KU coach Bill Self said.
Langford has concentrated on playing better in the first half.
"I'm trying to be a lot more aggressive. I said after the Nebraska game, 'Coach never gets upset with me for shooting the ball or just attacking,'" Langford said.
"I have to take advantage of that often. Even if I'm not necessarily scoring, my aggressiveness will help Wayne and J.R. score also."
¢
KU represented in Jordan game: KU signees Julian Wright and Micah Downs will play in the Jordan Classic high school all-star game April 16 at New York's Madison Square Garden. The game, to start at 6:30 p.m. Central time, will be shown live on ESPN2. The two will play on opposing teams. The Jordan Classic's official Web site lists one of the participants, C.J. Miles, as being a KU signee. Wrong. Miles is headed to Texas.
¢
Bumps, bruises: C.J. Giles (bruised foot) and Alex Galindo (groin) continue to receive treatments while practicing as they try to return from injuries. Giles, who has missed six straight games, and Galindo, who missed three straight, dressed for Wednesday's game at Kansas State and ran through drills but didn't play.
Christian Moody, who had his left ankle heavily taped, also is not 100 percent heading into Saturday's 2:30 p.m. home battle against Colorado. Moody had two points and three boards in nine foul-plagued minutes versus KSU.
Kansas University seniors Wayne Simien and Keith Langford and sophomore J.R. Giddens lead the Jayhawks in scoring this season. They are the only KU players to average double-figure points.
| | | | |
| --- | --- | --- | --- |
| Name | PPG | FG | 3ptFG |
| Simien | 18.3 | 112-204 | 3-8 |
| Langford | 15.2 | 105-227 | 25-64 |
| Giddens | 10.9 | 80-181 | 46-122 |
Self is hoping Giles and Galindo can return soon.
"C.J. gives you the athletic presence we desperately need -- a presence that teams playing for the highest of stakes definitely have," KU coach Self said. "C.J. was our best player in the Kentucky game and great against Iowa State. Alex gives us something we haven't had -- perimeter four-man shooting. I still don't know how good we'll be until we get all our pieces back."
¢
Self on radio: A radio talk-show guest on WHB-AM's "Between the Lines" show Wednesday, Self was asked about KU holding a two-game lead over Oklahoma State and Texas Tech in the league race.
"We're at the 18-minute mark of the second half," Self said. "We've just barely started the second half. We have a two-game lead but don't feel there's much of a cushion, to be honest."
He was asked about KU's Langford, not Aaron Miles, bringing the ball up court several times at KSU.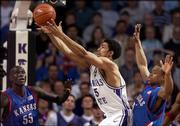 "We did a couple different things when Keith brought it up," Self said. "A lot is maybe to let Aaron rest. You have to have confidence in whoever brings it up especially against pressure. I want Aaron to handle it a majority of the time."
Copyright 2017 The Lawrence Journal-World. All rights reserved. This material may not be published, broadcast, rewritten or redistributed. We strive to uphold our values for every story published.