Police and some neighbors say they believe the gunfire was well-justified.
But at least one person who lives at the intersection where a Eudora officer fired a series of shots at a fleeing driver's vehicle Wednesday evening wonders whether the shooting was really necessary under the circumstances.
"I think they've got a gun-happy cop," said neighbor LaDonna Lickteig, who lives at County roads 458 and 1057. "They don't need to be shooting them guns out here like Wild Bill Hickok."
The car chase that led to the shooting began about 4:30 p.m. Wednesday when Lawrence Police tried to arrest William J. Buck, 48, Osawatomie. They stopped him in traffic on East 23rd Street because they knew he was wanted in Miami County on a methamphetamine-dealing warrant, but he sped away in his red Dodge and began driving on county roads southwest of Eudora.
The chase didn't reach speeds higher than 65 mph and lasted about 12 minutes, said Sgt. Dan Ward, a Lawrence Police spokesman.
As Buck approached County roads 458 and 1057, a Eudora officer who had come to the intersection to help Lawrence Police turned on his vehicle's emergency lights and raised his hand for Buck to stop, police said. Buck began to stop, but as the officer approached the car on foot, Buck sped up and began driving toward the officer, police said.
That's when the officer fired a series of shots -- neighbors say they heard five or six -- at Buck's left rear tire. Buck kept driving, but he stopped about a mile down the road where officers had blocked a bridge at 2150 N. 1000 Road.
Eudora Police Chief Greg Dahlem said the shooting was legitimate under Eudora's policies, which allow officers to shoot if they believe they're in immediate danger of death or serious injury.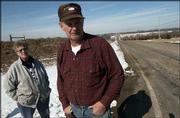 "As far as I'm concerned, the officer did what he was supposed to do, and I back him up," Dahlem said.
He said the rules also allowed police to shoot if it's necessary to stop a suspect from escaping in some felony cases, as long as it doesn't unnecessarily endanger innocent people.
"I understand the public's concern, but my feeling on the matter is that we didn't have an officer that was injured," Dahlem said. "We didn't have any people that were injured, and the suspect was apprehended in the safest manner possible for the situation."
Another neighbor who heard the shots, Joe Hendry, 57, said he thought he would have done the same thing if he were in the officer's shoes.
"I don't really question how police handle situations like that," he said. "If he felt like he needed to fire shots, he probably did."
Prosecutors on Thursday charged Buck with aggravated assault on police, obstruction, reckless driving and fleeing to elude police.
Buck was being held in the Douglas County Jail Thursday with bond set at $20,000. His bond on the Miami County warrant was $50,000.
Copyright 2018 The Lawrence Journal-World. All rights reserved. This material may not be published, broadcast, rewritten or redistributed. We strive to uphold our values for every story published.