London — A radiant Camilla, wearing a fuschia gown and clutching a black evening bag, showed off her engagement ring -- a royal family heirloom, platinum band with a square-cut central diamond and three sparkling baguettes on each side. Next to her, Charles smiled proudly and blushed, hands held behind his formal jacket, head angled at a princely tilt.
"Of course," the bride-to-be said when asked at Thursday night's Windsor Castle reception if Charles had gotten down on one knee to propose. "I'm just coming down to Earth."
As in a fairy tale, the crowd of well-wishers applauded and kissed the couple's cheeks.
The hints of marriage had been coming for a while -- the lovers had their first public kiss a few years ago, and that was soon followed by her formal introduction to the queen.
But nothing quite prepared the British public -- and the world -- for Prince Charles' announcement Thursday that he would wed Camilla Parker Bowles, the woman he fell in love with 30 years ago and whom the late Princess Diana blamed for destroying their marriage.
According to royal aides, Charles and Parker Bowles decided jointly that she won't be queen when he ascends to the throne -- perhaps out of consideration for Diana's enduring popularity here and the fact the public has never quite taken to the prince's consort.
But after the secrecy and tribulations of a romance that has played out, on and off, over three decades, Charles seemed overjoyed simply to be able to take her as his wife.
"I'm very excited," the usually reserved prince said.
The engagement ring Charles, 56, gave his 57-year-old fiancee is a royal family heirloom, according to the prince's office, Clarence House.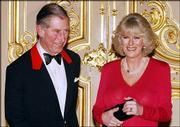 The April 8 wedding between the two divorcees will be a civil ceremony at Windsor Castle, in contrast to the pageantry of Charles' 1981 wedding to Diana at St. Paul's Cathedral. Divorce is a delicate matter for the man who would be head of the Church of England.
The news of the nuptials was received with warmth in Britain, where public opinion was once so hostile to Camilla that shoppers pelted her with rolls in a supermarket.
Charles and Diana's sons welcomed the announcement.
"We are both very happy for our father and Camilla, and we wish them all the luck in the future," Prince William, 22, and Prince Harry, 20, said in a statement.
Copyright 2018 The Associated Press. All rights reserved. This material may not be published, broadcast, rewritten or redistributed. We strive to uphold our values for every story published.