l — Services for Lauri Mai Hoffman, 49, Lawrence, will be at 10:30 a.m. Saturday at St. John Lutheran Church in Russell. Burial will follow in Russell City Cemetery.
Ms. Hoffman died Tuesday, Feb. 8, 2005, at Lawrence Memorial Hospital.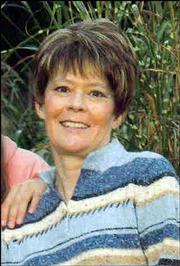 She was born Aug. 15, 1955, in Russell, the daughter of Richard and Ellen Krug Mai. She grew up in Russell and graduated from Russell High School in 1973. She attended Kansas University and completed her home economics degree at Fort Hays State University in 1977. She moved from Russell to Lawrence in 2001.
Ms. Hoffman was an active member of St. John Lutheran Church in Russell.
Survivors include her parents, Westlake, Texas; three sons, Taylor Driscoll, Tracy Driscoll, both of Russell, and Jason Driscoll, Lawrence; a daughter, Katy Hoffman, Lawrence; three brothers, Rick Mai, Dallas, Mark Mai, Destin, Fla., and Kurt Mai, Dallas; and a granddaughter.
Friends may call from 1 p.m. to 9 p.m. today at Pohlman-Heise Mortuary in Russell, where the family will receive friends from 6 p.m. to 7 p.m. today.
The family suggests memorials to the church, sent in care of the mortuary, 610 N. Maple St., Russell 67665.
Copyright 2018 The Lawrence Journal-World. All rights reserved. This material may not be published, broadcast, rewritten or redistributed. We strive to uphold our values for every story published.