Orlando, Fla. — The pressure has eased somewhat on Orlando Magic coach Johnny Davis, although there were a few tense moments Thursday night as his team frittered away a 20-point lead.
Steve Francis scored 11 of his 28 points in the fourth quarter, including a game-deciding 17-footer with 17 seconds to play, helping the Magic defeat the Atlanta Hawks, 101-96.
"A win against any team in this league is a good thing. So yes, I'm feeling better," said Davis, who has taken criticism from general manager John Weisbrod for his team's recent slump. "We're still basically a new team and still going through growing pains, but you can't stop. You've got to keep working at it and we are."
Francis, who also had nine assists and seven rebounds, hit his key shot after Atlanta cut its deficit to 97-94 with 38 seconds left on a three-pointer by Antoine Walker.
It was only the second win in the last six games for Orlando, which has sputtered to a 13-17 record after a surprising 13-6 start to the season.
The Magic received 24 points from reserve Hedo Turkoglu and 15 points and 20 rebounds from rookie Dwight Howard, who became the first rookie since Tim Duncan in 1997-98 to record two 20-rebound games in a season.
Pistons 103, Lakers 81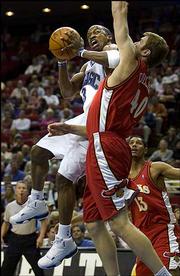 Auburn Hills, Mich. -- Rasheed Wallace had 23 points and a season-high 15 rebounds, and Tayshaun Prince scored 25 points as Detroit defeated Los Angeles.
The Pistons looked a lot like the team that disposed of Los Angeles in five games in the NBA Finals last season while winning by an average margin of 13 points.
The Pistons moved a half-game ahead of Cleveland in the Central Division standings with their sixth win in seven games. They led by 14 points less than five minutes into the game that never was in doubt.
onics 115, Kings 107
Seattle -- Antonio Daniels scored 14 of his 18 points in the fourth quarter, helping Seattle to its third victory this season over Sacramento.
The Northwest Division-leading Sonics won their fourth game in a row, while the Kings dropped their third straight.
All-Stars Ray Allen and Rashard Lewis led the way for the Sonics with 34 and 23 points.
Copyright 2018 The Associated Press. All rights reserved. This material may not be published, broadcast, rewritten or redistributed. We strive to uphold our values for every story published.