Birmingham, Ala. — Former HealthSouth CEO Richard Scrushy told an aide two years ago "everybody goes down" if problems with the company's financial statements become public, according to a secretly made recording played Thursday at Scrushy's fraud trial.
In the recording, made by former HealthSouth chief financial officer Bill Owens after he began cooperating with the FBI, Scrushy also is heard saying "every company has got a bunch of (expletive) on their balance sheet."
Jurors listened to the recording through headphones during Owens' seventh day on the witness stand. A transcript was projected on a large screen.
Owens is among 15 former HealthSouth executives who have pleaded guilty.
Prosecutors contend that the recording and others prove that Scrushy was behind a scheme to overstate earnings by some $2.7 billion over seven years beginning in 1996. The defense argues the recordings prove Scrushy's innocence.
Several times in the recording -- made March 17, 2003, before a raid of HealthSouth headquarters -- Scrushy asked Owens, "What do you want me to do?" and referred to things Owens had done regarding the company's finances.
Near the start, Scrushy asked: "You're not wired, are you?"
"No," replied Owens, who was actually wearing a microphone hidden in his necktie and a transmitter disguised as a cell phone.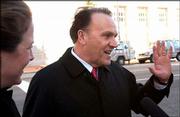 At one point, Scrushy said he prayed every day "that God will give us time to get on the other side. We're building a great company."
Scrushy added: "If you want to go public with all of this then you might as well get ready for .... Get fired, it's all gone, everybody goes down. And it's all done."
On Wednesday, jurors listened to another digital recording in which Scrushy instructed Owens to tell federal investigators the medical rehabilitation giant's financial statements were accurate, after warning: "This conversation did not take place."
Jurors heard the recordings despite numerous objections by the defense.
Scrushy is charged with conspiracy, fraud, money laundering, obstruction of justice and perjury.
He also is accused of false corporate reporting in the first test against a CEO of the 2002 Sarbanes-Oxley Act.
Copyright 2018 The Associated Press. All rights reserved. This material may not be published, broadcast, rewritten or redistributed. We strive to uphold our values for every story published.