ENID, OKLA. — Services for Beverly Chrisman, 62, Lawrence, Kan., will be at 2 p.m. Saturday at Henninger-Allen Funeral Home in Enid. Burial will follow in Memorial Park Cemetery in Enid.
Mrs. Chrisman died Tuesday, Feb. 8, 2005, at Olathe Medical Center in Olathe, Kan.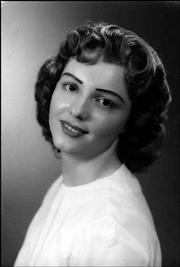 She was born Nov. 18, 1942, in Paris, Texas, the daughter of Harold and Verda Evers.
Mrs. Chrisman was a homemaker.
She married Paul E. Chrisman. He died earlier.
A grandson died earlier.
Survivors include her parents, Enid; two sons, Paul Edward Chrisman Jr., and Ronnie L. Chrisman, both of Tonganoxie; a daughter, Karen Carney, Kansas City, Mo.; and two grandchildren.
Friends may call from 6 p.m. to 8 p.m. Friday at the Funeral Home.
The family will receive friends from noon to 2 p.m. Feb. 27, for a potluck memorial dinner at the Train Depot Community Room, 402 N. Second St., in Lawrence.
The family suggests memorials be sent in care of the funeral home, 601 W. Broadway, Enid 73701.
Copyright 2017 The Lawrence Journal-World. All rights reserved. This material may not be published, broadcast, rewritten or redistributed. We strive to uphold our values for every story published.