Donald A. Binns, an educator, city leader and a force behind Lawrence's major expansion westward, died Thursday at Lawrence Memorial Hospital. He was 87.
Binns, founder of the Lawrence Alternative High School, was an opinionated man who wasn't afraid to give an honest answer when asked a tough question, said people who knew him.
"He was a straight shooter. You don't find men much like him anymore," said Lawrence Supt. Randy Weseman. Binns gave Weseman his first teaching job at Lawrence Alternative High School in 1976.
Binns taught American government at Lawrence High School from 1960 to 1976. He continued his career as an educator as director of the alternative high school until he retired in 1982.
He had served in the U.S. Navy 20 years before embarking on his career in education. He served in World War II and was captured when the Japanese invaded Guam on Dec. 8, 1941. He was a prisoner of war for about four years.
In several newspaper stories, Binns described his time as a POW, calling it a gruesome and harrowing experience.
Lawrence City Manager Mike Wildgen said that when Binns served on the Lawrence City Commission, between 1975 and 1983, he would sometimes tell war stories and talk about his experiences as a POW.
Binns, who was mayor between 1978 and 1979, had a determination about him, said Wildgen, who was an assistant city administrator when Binns was on the commission.
The city made the decision to build the Clinton Water Treatment plant and put in a sewer district west of town while Binns was on the commission.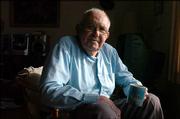 "That was instrumental in allowing the growth to happen on the west side of town," said former Commissioner Ed Carter, who was on the commission between 1977 and 1981.
Carter said many people opposed the treatment plant because they didn't like the concept of growth in the community. But Carter said he thought the commission demonstrated that growth was good when it was planned and well-managed.
The commission also approved creating the Lawrence Senior Center, 745 Vt., and had to deal with upheaval among city staff members, who were close to going on strike.
"Don was always just rock solid through it all," Carter said. "He was no-nonsense and was there to strictly do what was best for Lawrence as a whole. But I thought he also did a magnificent job representing the people in far east Lawrence."
Wildgen praised Binns as an elected official whose affection for the city did not expire with his term.
"Even after he left the commission, he still expressed an interest in the city," Wildgen said.
Binns also helped with the local chapter of the American Red Cross. Jo Byers, former director of the Douglas County Chapter of the American Red Cross, said Binns was the water safety chairman for the local chapter when she took the job in 1965. Binns also was a water safety trainer and taught swimming lessons.
"He was a really good man and a good instructor, and he was an opinionated man," Byers said of Binns. "But the kids really liked him."
Services for Binns will be at 3 p.m. Sunday at Warren-McElwain Mortuary, 120 W. 13th St. The family will greet friends from 2 p.m. until service time.
Copyright 2017 The Lawrence Journal-World. All rights reserved. This material may not be published, broadcast, rewritten or redistributed. We strive to uphold our values for every story published.