New York — Ossie Davis, the imposing, unshakable actor who championed racial justice on stage, on screen and in real life -- often in tandem with his wife, Ruby Dee -- has died. He was 87.
Davis was found dead Friday in his hotel room in Miami Beach, Fla., according to officials there. He was making a film called "Retirement," said Arminda Thomas, who works in his office in suburban New Rochelle and confirmed the death.
Miami Beach police spokesman Bobby Hernandez said Davis' grandson called about 7 a.m. when Davis would not open the door to his room at the Shore Club Hotel. Davis was found dead and there does not appear to be any foul play, Hernandez said.
Davis, who wrote, acted, directed and produced for the theater and Hollywood, was a central figure among black performers for decades. He and Dee celebrated their 50th wedding anniversary in 1998 with the publication of a dual autobiography, "In This Life Together."
Their partnership called to mind other performing couples, such as the Lunts, or Hume Cronyn and Jessica Tandy. Davis and Dee first appeared together in the plays "Jeb" in 1946 and "Anna Lucasta" in 1946-47. Davis' first film, "No Way Out" in 1950, was Dee's fifth.
Both had key roles in the television series "Roots: The Next Generation" (1978), "Martin Luther King: The Dream and the Drum" (1986) and "The Stand" (1994). Davis appeared in three Spike Lee films, including "School Daze," "Do the Right Thing" and "Jungle Fever." Dee also appeared in the latter two; among her best-known films was "A Raisin in the Sun," in 1961.
In 2004, Davis and Dee were among the artists selected to receive the Kennedy Center Honors.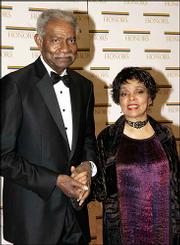 When not on stage or on camera, Davis and Dee were deeply involved in civil rights issues and efforts to promote the cause of blacks in the entertainment industry. They nearly ran afoul of the anti-Communist witch-hunts of the early 1950s, but were never openly accused of any wrongdoing.
Actor Roy Scheider, who had performed with Davis and attended anti-war rallies with him, called Davis and Dee "the first political couple of America."
"Ossie seemed to always show up at the right time, on the right side, which was always the human side," Scheider said. "He was always progressive and had a very heartfelt sympathy for all people everywhere."
Other films in which Davis appeared include "The Cardinal" (1963), "The Hill" (1965), "Grumpy Old Men" (1993), "The Client" (1994) and "I'm Not Rappaport" (1996), a reprise of his stage role 10 years earlier.
On television, he appeared in "The Emperor Jones" (1955), "Freedom Road" (1979), "Miss Evers' Boys" (1997) and "Twelve Angry Men" (1997). He was a cast member on "The Defenders" in 1963-65, and "Evening Shade" in 1990-94, among other shows.
Copyright 2017 The Associated Press. All rights reserved. This material may not be published, broadcast, rewritten or redistributed. We strive to uphold our values for every story published.