Some of the images of New Orleans that linger in Matt Gehrke's mind are outlandish.
There's one memory of a barge grounded in the middle of a neighborhood with a mini school bus wedged beneath it, another of a truck trapped in a tree.
And then there were the areas, like Plaquemines Parish, a peninsula surrounded by the Gulf of Mexico, where Gehrke took in mile after mile of rubble.
"After a while you just become numb to it," Gehrke said. "It's very surreal."
Gehrke, a Kansas University graduate, recently returned from a 52-day trip to New Mexico, Arkansas and Louisiana, where he aided those devastated by Hurricane Katrina. Gehrke, a former Peace Corps volunteer, was a member of the agency's Crisis Corps, a program that focuses on short-term aid. It was the first time the Peace Corps has ever worked domestically.
In each state, Gehrke, 28, aided evacuees. In Albuquerque, he monitored evacuees to see what help they needed.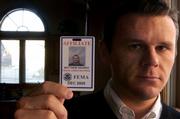 In Little Rock, he visited evacuees living in hotels and motels. The Federal Emergency Management Agency had planned to stop paying for the temporary lodging within weeks, so Gehrke had to meet with the evacuees and make sure they were making progress finding somewhere else to stay. It wasn't a job he relished.
He said he felt he was simply helping FEMA, not the residents, he said, though he also helped direct evacuees to agencies that could help them find housing and other services.
Gehrke said the evacuees themselves were easy to work with.
"They wanted help, and they knew they needed help," he said.
Gehrke tried to be a good listener.
One man had lost his wife and children in the hurricane. He had no money for food or even a way to cook food. Gehrke helped get him better living conditions, a place with a kitchen.
Before heading to New Orleans, Gehrke said he imagined unorganized and even chaotic aid efforts and devastation. And that's what he found.
Gehrke was among the first Peace Corps workers to enter New Orleans' lower 9th Ward, one of the areas hardest-hit by Katrina.
He helped create a recovery center in an RV and booths set up in a parking lot. He watched the expressions of people who had returned to see their destroyed homes for the first time. The people were relatively quiet, Gehrke said.
"I think they were probably in shock," he said.
He journeyed though Plaquemines Parish, meeting with residents to see whether they needed aid. He met with Vietnamese fisherman trying to bring in what they could for the shrimping season.
"We'd go meet them at work, and they'd be so focused on the work that the disaster was a very minor thing," he said.
Gehrke returned Dec. 20. The work was at times difficult, he said, because he didn't know how to console people who had lost so much.
"You're sitting there looking at them and you just have a hard time knowing what's the proper way to handle it," he said. "A lot of times, you just don't know how to react."
After more than two years in the Peace Corps, including a stint in Kazakhstan, Gehrke is moving on. Now he needs to a paying job, he said.
But, for those in the Gulf Coast region, Gehrke said he believed more was needed than just new homes. He said the country needed to address poverty.
"The storm exposed major flaws in our system," he said. "You can rebuild, but how do you address the poverty?"
Copyright 2018 The Lawrence Journal-World. All rights reserved. This material may not be published, broadcast, rewritten or redistributed. We strive to uphold our values for every story published.