From its inception, ABC's Monday Night Football was a risky experiment that defied American sports tradition. From Howard Cosell's pontification to Don Meredith's down-home songs to Dennis Miller's arcane analogies, it dominated TV viewing in homes and bars across the nation.
The broadcast was a hodgepodge of personalities and indelible images, defining moments and follies, eye-popping on-the-field performances and the kind of impromptu silliness that only sheer boredom can create.
In short, it was exactly what ABC Sports boss Roone Arledge hoped it would be.
It was theater.
Television sports reaches the end of one era and the beginning of another Monday night when ABC signs off on its prime-time weeknight coverage of the NFL for the final time and hands off to sister network ESPN.
The 555th Monday night game on the network is itself of little consequence: The dismal New York Jets play the New England Patriots, who already are playoff bound but have no chance to improve their position.
The series switches networks next season, when ESPN begins paying $1.1 billion per year for Monday night rights in an eight-year deal.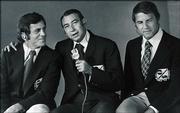 "Monday Night Football is the premier property in sports television," ESPN president George Bodenheimer said. "All the players get up for it. All the teams watch. It's a national showcase. To be able to transition it to ESPN is an honor."
There was no ESPN when ABC began its MNF run on Sept. 21, 1970, with the Jets playing at Cleveland. It was the beginning of 36 seasons of one of television's most valuable franchises, a compelling three hours that became the longest running prime-time sports series in TV history.
Municipal Stadium was jammed with 85,703 fans that first night as ABC began a broadcasting odyssey with Keith Jackson doing play-by-play and ex-quarterback Meredith sharing analysis and wisecracks with Cosell. The three-man booth was new territory for sports television. But then, so was this whole MNF adventure, the invention of NFL commissioner Pete Rozelle and Arledge.
It was a bold step because, for the longest time, football in America fit neatly into a three-day weekend. Friday night was reserved for high school games. Saturday belonged to college football. The NFL played on Sunday.
Rozelle wasn't about to lock the NFL into that pattern. The league had experimented with occasional weeknight games, and the commissioner thought it was a perfect place to grow his product. Similarly, Arledge believed sports was the perfect product for television.
Rozelle needed a network partner and Arledge needed a foot in the NFL door. With CBS and NBC locked into NFL games on Sundays, ABC was the perfect fit for MNF. But it took some persuading.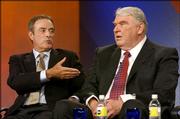 Rozelle's trump card was syndication on the Hughes Sports Network. On and off for two years, Rozelle and Arledge would meet for lunch, usually at Manhattan's posh 21 Club, haggling over details. Arledge felt he was always on the defensive, especially when Rozelle mentioned Hughes.
"I had about as much clout as the Dalai Lama has dealing with the Chinese army," he once said. "You know where the power was."
Arledge persuaded reluctant ABC higher-ups to sign off on the deal, but then Rozelle almost pulled the rug out from under him.
"He said, 'Of course, you understand we have to offer it to CBS and NBC first because of existing contracts,'" Arledge said. "I was about to slit my throat."
The other two networks passed, and the deal went to ABC for $8.5 million a year, a rights fee that ballooned over the life of the partnership to $550 million per year, half of what ESPN will pay.
It was the start of something very big.
Arledge's plan was to use the up-close-and-personal approach he had applied to ABC's coverage of the Olympics. There would be nine cameras instead of the usual four or five. Producer Dennis Lewin was there at the start and later moved to the NFL as head of broadcasting.
"We approached every game as if it was the Super Bowl," Lewin said.
The selection of the announcing team was vital. The plan was to have ex-NFL star Frank Gifford in the booth, but Gifford had a year remaining on a contract at CBS and he recommended his pal, Meredith. Arledge added the bombastic, often abrasive Cosell for analysis, with Jackson doing play-by-play.
The interplay between the urbane Cosell and Meredith the country boy made the broadcasts tingle with electricity. Cosell took to calling Meredith "Dandy Don," and the quarterback would serenade blowout games by singing, "Turn out the lights, the party's over."
Once, when the cameras zeroed in on stony-faced Minnesota coach Bud Grant, Meredith changed his tune, singing, "You are my sunshine, my only sunshine ... ."
The first game included an electrifying 94-yard return of the second-half kickoff by Cleveland's Homer Jones, played and replayed by ABC's army of cameras, and a dramatic portrait of Jets quarterback Joe Namath, shoulders slouched at game's end after an interception that sealed the victory for the Browns.
Copyright 2018 The Associated Press. All rights reserved. This material may not be published, broadcast, rewritten or redistributed. We strive to uphold our values for every story published.