New York — Faced with mounting fines and the rising wrath of millions of commuters, the city transit union sent its members back to work without a new contract Thursday and ended a crippling, three-day strike that brought subways and buses to a standstill.
Buses started rolling shortly before 9 p.m. CST in Manhattan and at least one subway station opened offering free rides.
"I'm ecstatic that it's over, but I'm still really mad that they did it," said Jessica Cunningham, 21, who was in town for the holiday.
The breakthrough came after an all-night session with a mediator. Around midday, leaders of the 33,000-member Transport Workers Union overwhelmingly voted to return to work and resume negotiations with the transit authority on a new three-year contract.
"We thank our riders for their patience and forbearance," said union local president Roger Toussaint.
While the deal put the nation's largest mass transit system back in operation, it did not resolve the underlying dispute - pension contributions were the main sticking point - meaning there could be another walkout if the negotiations fail.
The strike cost the city untold millions in police overtime and lost business and productivity at the very height of the Christmas rush. But the strike did not cause the utter chaos that many had feared, and traffic in many parts of town was surprisingly light.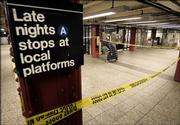 "In the end, cooler heads prevailed," Mayor Michael Bloomberg said. "We passed the test with flying colors."
The return to work was announced just minutes before Toussaint and two of his top deputies were due in a Brooklyn courtroom to answer criminal contempt charges that could have landed them in jail.
Earlier this week, state Justice Theodore Jones fined the union $1 million a day for striking. And under the state no-strike law, the rank-and-file members were automatically docked two days' pay for each day they stayed off the job.
Copyright 2018 The Associated Press. All rights reserved. This material may not be published, broadcast, rewritten or redistributed. We strive to uphold our values for every story published.