Lawrence High girls basketball coach Kristin Mallory loves to have the ball in Sydney Wilson's hands late in a game.
"It's like 'Pop-A-Shot' at the free-throw line," Mallory said.
Fortunately for LHS, the senior also is deadly accurate from another spot on the floor.
Wilson drilled four three-pointers Thursday night, including a pair of well-timed back-to-back deliveries midway through the fourth quarter, as LHS defended its turf in a 47-39 victory over Free State.
After taking a 4-3 lead early in the contest, LHS (3-4) didn't trail again. That doesn't mean Mallory and her players suffered from lack of tension.
Thanks to a 6-0 run to open the fourth quarter, Free State (3-3) had the ball and an opportunity to tie with under five minutes remaining.
"Honestly, I was like, 'They're going to hit a three,'" Mallory said.
Photo Gallery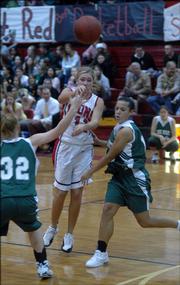 Girls: Lawrence High vs. Free State High 12-22-05
Instead, the Lions forced a turnover, Wilson came down and hit a three and added another on the next trip to widen the gap again.
After the Firebirds moved within three again in the final minute, Wilson calmly sank four straight free throws, closing the book on a 20-point effort and closing out the rivals from across town.
"I think it helps so much to be comfortable," Wilson said of her ability to respond during crucial moments. "I've played in so many basketball games : and a lot of them have come down to pressure situations."
While Wilson had no problems putting the ball in the hoop, the same can't be said for just about everyone else wearing a uniform Thursday.
LHS shot just 37 percent from the floor and barely broke 50 percent at the charity stripe, making 16 of its 30 attempts.
The Firebirds only managed to convert 11 of 47 shots - an anemic 23 percent - and also failed to take advantage at the line, where they were 15-for-28.
Forward Kelsey Harrison led the way with 17 points.
Free State coach Bryan Duncan was blunt in assessing his team's performance.
"There were no positives tonight. We don't believe anymore in the fight-backs. We've already done that," Duncan said. "Tonight, four quarters, we didn't get it done."
He also hopes the loss stings over the holiday break.
"I hope there's a lot of lingering feelings for our players, because we really challenged them after the game," Duncan said. "We hope they go and find some open gyms on their own and prepare to get better. Because, right now, we're a very average team - and that's not where we want to be."
2005-06 Journal-World Cup
2005-06 Journal-World Cup
Standings
LHS: 10
Free State: 17
LHS varsity wins: 10
Free State varsity wins: 17
Note: The girls track and field teams recorded a tie during the Sunflower League meet.
Copyright 2018 The Lawrence Journal-World. All rights reserved. This material may not be published, broadcast, rewritten or redistributed. We strive to uphold our values for every story published.