With one member of his starting backcourt sitting on the end of the bench because of a knee injury and another in the hospital, and equipped with a ballclub that has shown a propensity for turning over the basketball, Chuck Law made the boldest move of his brief tenure as Free State High's boys basketball coach Thursday night.
With more than six minutes remaining in this season's first grudge match with Lawrence High, he instructed his charges to spread the floor.
"Gutsy or stupid. I'm not sure which," Law said. "It worked."
Showing composure that had been lacking in its opening five games, Free State executed almost flawlessly down the stretch, riding a wave of back-door buckets and free throws to a 58-54 victory on the Lions' home floor.
"I just liked the way we were moving the ball," Law said of his fourth-quarter game plan. "We made really good decisions with the ball.
"The composure was there. I could tell by looking into the guys' eyes we were going to be OK doing that."
Photo Gallery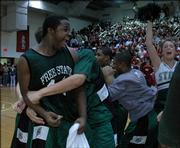 Boys: Lawrence High vs. Free State High 12-22-05
It was a bit of a surprising move considering some of the players who weren't available to make it happen. Leading scorer Scott Heitshusen missed his second straight game because of a knee injury, while point guard Ryan Murphy was hooked up to intravenous fluids at Lawrence Memorial Hospital after becoming ill Monday.
That left the door open for a cast of role players to step up in the biggest game of the still-young season.
Forward Christian Ballard turned in a solid effort early on the low blocks, finishing with 12 points, while guard Nick Devin provided a spark in the backcourt after Murphy's replacement - his twin brother, Brian - fouled out with more than five minutes remaining.
However, the biggest impact came from junior guard Kyle Schreiner, the son of former Free State coach Jack Schreiner, whose resignation on the eve of the season put Law in charge.
After setting up his teammates for a number of good looks in the opening half, Schreiner found his own offense after the break, scoring a team-high 14 points as the Firebirds (2-4) bounced back from a 30-26 halftime deficit.
"It was the best feeling in the world. I've been thinking about this all through finals," said Schreiner about the cross-town showdown. "This was the best feeling I could have and the team could have."
While Free State counted the blessings of a united effort, LHS (5-2) showed what can happen when key performers struggle to contribute.
Point guard Kristian Pope, the player usually responsible for running the offense, instead was the offense, finishing with a game-high 18 points. However, after combining to score 41 points in last Friday's double-overtime loss to Shawnee Mission Northwest, the duo of Tyler Knight and Chance Riley switched that number around, tossing in just 14 on Thursday.
"I feel like (Free State) dictated the tempo," LHS coach Chris Davis said. "They took us out of what we like to do, and we struggled with it. They had a good game plan, and they stuck with it.
"We knew that teams were going to do this type of thing to us. I told the guys at the beginning of the year we were going to get our hat handed to us a couple of times."
2005-06 Journal-World Cup
2005-06 Journal-World Cup
Standings
LHS: 10
Free State: 17
LHS varsity wins: 10
Free State varsity wins: 17
Note: The girls track and field teams recorded a tie during the Sunflower League meet.
Copyright 2018 The Lawrence Journal-World. All rights reserved. This material may not be published, broadcast, rewritten or redistributed. We strive to uphold our values for every story published.