The glassmakers of Czechoslovakia made many types of glassware from 1918 to 1938, including candy baskets, chandeliers and lamps, jewelry, novelties, art glass, iridescent glass and colored glass, especially orange. Many of the glass pieces were copied from glass made in other countries. The variety and quality of Czech cut and pressed glass perfume bottles made them popular around the world. A tray of fancy perfumes with tall stoppers was a "must" in every 1940s dressing room. A more unusual, perhaps unique, design created in Czech glasshouses was a lamp shaped like a basket of fruit. A metal frame held strings of clear glass beads to form a basket. The top was filled with individual pieces of glass fruit or flowers. A light bulb was positioned at the bottom of the basket. When it was turned on, the basket and fruit glowed with a faint light. These baskets were totally out of style in the 1950s and were not even offered at antiques shops. By the 1990s, they were rediscovered, and today a glass basket-lamp of fruit or flowers sells for $500 or more.
Q: Through the years, I have inherited two Roos cedar chests, but their marks are not alike. One is marked "Roos Chests, Ed Roos Co. of Forest Park." The other, a plainer and older chest, is marked with a rooster outline and the words "Original Roos, Est. 1871." I learned from my research that the Ed Roos Co. was in business from 1916 to 1951, but I can't find any information on an "Original Roos" company. Can you help?
A: A man named Edward Roos arrived in Chicago in 1865 and founded his own lathe works there in 1871. By the 1880s, his factory was manufacturing cabinets, tables, curtain poles and cornices. This was the Original Roos company. That Edward Roos was probably related to another, younger Edward Roos, who in 1916 founded his own firm to make cedar chests.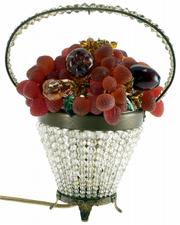 Q: When my aunt died in 1936, she left me a light-orange teapot with a lid. The teapot is oval with vertical ridges and stands a little over 5 inches tall. The mark on the bottom is an oval surrounding the words "Fraunfelter China" and "Ohio." What can you tell me?
A: Fraunfelter China Co. operated in Zanesville, Ohio, from 1923 to 1939, although it closed for a time in the early 1930s. Charles Fraunfelter opened the business when he purchased the Ohio Pottery, where he had worked since 1915. The mark on your teapot was used beginning in 1924. Fraunfelter China Co. manufactured china dinnerware, cooking ware and laboratory ware. We have seen teapots like yours for sale at prices ranging from $15 to $50.
Copyright 2018 The Lawrence Journal-World. All rights reserved. This material may not be published, broadcast, rewritten or redistributed. We strive to uphold our values for every story published.