Santa's elves are thinking outside the box when it comes to wrapping gifts this year.
Gone are the days of simply covering up your gift with whatever roll of paper was left over from last year.
Gift-wrapping is becoming an art.
"They theme it out, so everything goes with a color scheme," says Marcell Lawrence, manager of the Audrey's Hallmark, 3514 Clinton Parkway. "All the packages go together. For some people, it's part of decorating their homes during the holidays. They can be part of your decor."
And more and more, that decor isn't the traditional reds, greens and golds of the past.
"A lot of people are drifting toward the bright greens and the pinks," says Kathy Sexton, manager of The Palace, a gift shop at Eighth and Massachusetts streets. "It used to be you'd use all sorts of paper. These days, it's a more coordinated look."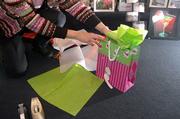 Companies that make gift-wrapping accessories are marketing that way, too. Next to a particular color of rolled gift-wrap might be ribbon, bows and gift tags that match.
That means you don't have to be an expert in color coordination to make your gifts look good.
"You don't have to think about it too hard," Sexton says.
And for those with artistic flair, there's plain brown wrapping paper that's ripe to become a canvas for an art project. Children especially like to decorate their own wrapping paper for gifts for their relatives, Sexton says.
Accessories
No matter the wrapping paper motif, there are options for sprucing up gifts.
Photo Gallery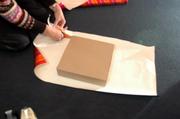 How to wrap a basic box
Demonstrated by Kathy Sexton, of The Palace
Jennifer Holmes, manager at Rod's Hallmark, 2923 Iowa, suggests adding a three-dimensional object to the gift box.
"A lot of times it's real popular to add a little ornament - a little decoration like a little snowman ornament or a snowflake ornament," Holmes says.
Store-bought bows still top homemade bows in sales, Holmes says. But fabric bows are gaining on traditional shiny ones in popularity.
Other options
Even if you pick out the perfect paper and accessories, it takes a bit of skill to get the job done.
Cutting extra paper and using a ton of tape doesn't necessarily mean it'll be easier to cover up your gift.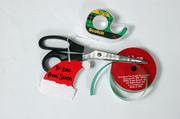 "The thing that makes it the hardest is if you have too much paper to wrap the present," Holmes says. "That kind of takes practice in gauging size."
She says she usually leaves about an inch of extra paper around each edge to guarantee a proper fit.
Sexton suggests using double-sided tape to cut down on unsightly adhesive.
Of course, if you don't feel comfortable wrapping gifts, there's always the easy way out: gift bags.
Cutting sheets of tissue paper in half, rolling them up and filling the top of a gift bag makes for an easy option for concealing a gift.
"If you can't wrap," Sexton says, "that's a perfect way to go."
And if even that seems too difficult, Holmes has another strategy.
"A lot of people this time of year," she says, "have presents wrapped at the place where they get them."
Copyright 2018 The Lawrence Journal-World. All rights reserved. This material may not be published, broadcast, rewritten or redistributed. We strive to uphold our values for every story published.