Erica Hallman couldn't hit a lick. UMKC had more rebounds and more free throws.
No problem.
Kansas University's women's basketball team remained unbeaten with a 73-51 decision over the Kangaroos Wednesday night in Allen Fieldhouse.
"It wasn't as ugly as last year's game," KU coach Bonnie Henrickson said, "but I don't know if it was as pretty as we'd like."
For the first dozen or so minutes, this one looked like it might be a repeat of the Jayhawks' desultory 47-36 victory over the 'Roos, also in Allen Fieldhouse.
Kansas (6-0) led 17-16, then went on a 23-7 sizz during the last six minutes of the first half and eventually posted leads of as many as 26 points before Henrickson went deep into her bench with 10 minutes remaining.
"They wanted us to shoot from the outside," said KU senior Crystal Kemp about the sluggish start, "and we weren't hitting."
Hallman, in particular. The 5-foot-8 senior had made 14 of 24 three-pointers in the last three games, but she missed four of five from beyond the arc Wednesday night.
Kaylee Brown, who had made a glossy 48 percent of her treys, wasn't much better, converting just four of six attempts.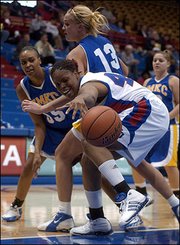 "Most of us went in thinking we were going to be hot from beyond the arc," Kemp said, "and they weren't going down."
Finally, freshman Ivana Catic started that six-minute late first-half spurt with a rare four-point play -- she was fouled after she made a basket -- then canned a three-pointer minutes later to fuel a 40-23 intermission bulge.
"Unfortunately, we get our energy from the offensive end," Catic said. "We should be more aggressive. We need to talk more. We have to communicate more."
UMKC's 2-3 zone was daring the Jayhawks to make three-pointers.
"In the beginning," said Brown, who wound up with 15 points, "we weren't ready to shoot when we received passes. We weren't getting our hips set. But then we started to get more aggressive in their zone."
So it didn't matter that the 'Roos (2-6) outrebounded the Jayhawks 36-30, or that they had 14 free throws to KU's nine.
What killed UMKC were turnovers -- 28 of them. Kansas was ticketed with just 12.
"At times, we deserved credit," Henrickson said of those turnovers, "but at times we didn't."
Henrickson, who used a nine- or 10-player rotation in the first five games, utilized only seven players during the first 30 minutes.
"I wasn't real comfortable," the KU coach said about shortening her bench. "They ran that sagging 2-3 zone, and I wanted to give those kids some confidence to attack it."
The sixth and seventh players were junior guard Shaquina Mosley and freshman forward Marija Zinic. Mosley contributed three steals and three assists, while Zinic nearly posted a double-double with eight points and 10 rebounds.
Hallman wound up with only three points, but she had a team-high seven assists. Catic finished with 13 points and five steals. Kemp collected a team-high 16 points.
After six straight victories over mid-major competition, the Jayhawks will receive their first real test when they entertain Wisconsin.
"I think we're ready," Henrickson said about Sunday afternoon's game. "I think we're excited about it."
Copyright 2018 The Lawrence Journal-World. All rights reserved. This material may not be published, broadcast, rewritten or redistributed. We strive to uphold our values for every story published.