Montreal — Thousands of protesters took to the streets in cities worldwide Saturday to demand urgent action on global warming as delegates continued their work at an international climate change conference to review and update the Kyoto Protocol.
Police said about 7,000 people marched in downtown Montreal - some dressed up as polar bears. Five environmental groups, including Greenpeace and the Climate Crisis Coalition, delivered a petition signed by 600,000 Americans to the U.S. consulate in Montreal urging President Bush and Congress to help slow global warming.
Organizers said 10,000 people marched through London, passing Prime Minister Tony Blair's home on Downing Street, where they delivered a letter demanding the government reaffirm its commitment to Kyoto with legally binding targets on emissions reductions.
Chanting and blowing whistles, the marchers denounced Blair and Bush for their perceived environmental failings. Some held banners depicting Bush as "Wanted - for crimes against the planet" and advising "Ditch Blair, not Kyoto."
Canadian Inuit traveled to Montreal from the isolated Arctic north to join the protest there.
Canada's Environment Minister Stephane Dion, who is presiding over the 10-day U.N. Climate Change Conference in Montreal, also took part in the march and said final negotiations next week involving some 120 environment ministers and other government leaders would be crucial to improving the Kyoto agreement.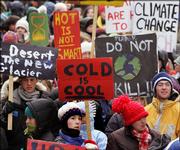 Bush has been widely criticized for pulling out of the treaty, which binds industrialized nations to lower greenhouse gas emissions. The United States, responsible for nearly 25 percent of the world's carbon emissions, was the target of many demonstrators Saturday.
At a protest in Boston, speakers called on Massachusetts to join with seven other Northeast states that are putting limits on carbon dioxide emissions from power plants. Gov. Mitt Romney has not signed on because he is concerned that the pact could mean increased utility rates.
The agreement's benefits are numerous, said Marc Breslow, director of Massachusetts Climate Action Network, who estimated that about 60 people rallied at Cathedral of St. Paul, an Episcopal church at the foot of Beacon Hill.
"We won't lose our beaches," he said. "We won't lose our oak trees. We won't have more intense storms."
Protests were expected in 32 countries, including Canada, the United States, Japan, Germany, France, Bangladesh, Brazil, Australia and South Africa.
Copyright 2018 The Associated Press. All rights reserved. This material may not be published, broadcast, rewritten or redistributed. We strive to uphold our values for every story published.