No matter how the Jayhawks play on the field, the Atomic Buffalo Turds will be hot at Bruce Murrish's tailgate party.
The name of Murrish's favorite football fare may raise eyebrows, but he promises the "turds" -- made from filling a hollowed-out jalapeno with cream cheese, cheddar cheese and pork -- are a crowd-pleaser.
"We try to have a variety," Murrish says of his tailgate menu. "If you stick to brats and hamburgers, it gets kind of boring. You want something different."
With Kansas University returning to the gridiron Saturday, Murrish and hundreds of fellow tailgaters will be breaking out their grills and looking to score a tastebud touchdown in the parking lots surrounding Memorial Stadium.
The key is to find a balance of the right food, beverages and atmosphere to turn a football game into an all-day extravaganza with friends.
"It's the new American social and the last great American neighborhood," says Joe Cahn, the self-proclaimed Commissioner of Tailgating. "The only stranger in the tailgate area is the one you haven't said 'hello' to yet."
Keep it simple
Cahn, 57, has made plenty of tailgating buddies during the last decade. The New Orleans native travels the country in a 40-foot motor home, stopping each weekend at a different football game.
He says KU is among the most welcoming places he's been.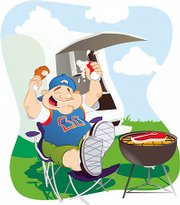 "The biggest thing is the fans and the friendliness of the fans," he said. "It's a great culture. Inside the stadium, the visiting team are opponents, but outside they're just visitors. It's great Midwest hospitality."
Cahn, who plans to attend KU's game against Oklahoma at Arrowhead Stadium this season, says instead of spending hours in the kitchen, add little flares to simple, traditional foods:
Make hamburgers with crumbled bleu cheese instead of American cheese.
Make hot dogs with chili and fresh relish.
Marinate chicken before grilling it.
Instead of grilling five different types of meat, serve one type with five different types of mustard.
"Especially for the first few games, the game plan doesn't have to be very complicated," Cahn says. "We can get the trick plays later."
Kansas University football fans wanting to drink alcohol as part of their tailgating parties will have a little extra time to do it this year.
For the first time, KU officials will allow alcohol consumption at halftime, in addition to three hours before kickoff.
This is the fifth straight year KU has allowed alcohol in designated areas near Memorial Stadium. A map can be found here. Also, no kegs or containers larger than a gallon can be brought into the area.
State rules allow alcohol use on campuses when it is tied to fundraising. This year, $1 of the proceeds from sales of each football program in the tailgating area will be divided among the Center for Community Outreach, Spirit Squad, sports clubs and the Nichols League student leadership fund.
Simple is better for Debbie Van Saun, who helps organize a tailgating party that draws 50 to 75 people each game.
She prefers the basics: hamburgers, hot dogs, chicken or bratwurst for most games. For early kickoffs, breakfast foods are an option.
"The key is it's a group of folks who have known each other for a very, very long time," says Van Saun, an assistant city manager. "It's the people -- the camaraderie of the group. The menu is usually pretty decent, and we all have a love of KU football."
Tailgate to the Max
Contrast that simplistic style to Murrish. In addition to his signature Atomic Buffalo Turds, he's been known to cook pork, ribs or brisket for tailgating parties, using tricks he learned with his competition barbecue team, Rock Your Belly.
He also likes to fix baked beans, jambalaya and bacon-wrapped scallops. And vegetable trays are an option, though he says his carnivore friends don't munch much on the veggies.
"The key is to have a wide variety of foods available and to have finger foods so you don't have to have a plate," he says. "You need to let them graze with lots of options."
The smells coming from his smoker often draw in more than the usual 100 or so invited guests.
"I'm always making more food than I know I'll need," he says. "We welcome anyone who wants to come in, talk football and have a good time."
In addition to the food, Murrish, who lives in Lawrence and works at Hallmark Cards, sets up canopy tents with lights, two TVs and football video games to entertain friends.
And, of course, there's plenty of beer. There's a reason KU students wear football T-shirts saying, "Win or Lose -- We'll Still Booze."
"You can't tailgate without that," Murrish says.
'Diehard' group
John Stover of Lawrence is another KU fan who has turned tailgating into an art.
His party is easy to find: It's the one under a 25-foot-tall Jayhawk flag, with Jayhawk pennants leading up to it.
Among the items he's had on his menu are ribs, shrimp cocktail, cheese and crackers, homemade ice cream and fried chicken. In addition to beer, he'll have soda and wine.
For morning games, it's pancakes and Bloody Marys.
"We're diehard tailgaters," says Stover, a chemical engineer in Overland Park. "We'll do it no matter what."
Cahn, the Commissioner of Tailgating, says the pregame phenomenon is growing with each passing football season. It's so popular, he tells people -- with tongue in cheek -- that he'll run for president in 2008.
"You have the Republican Party, and that's a good party," he says. "And you have the Democratic Party, and that's a good party. But there's no party as great as a tailgating party.
"We don't worry about the left wing or the right wing. We worry about the whole damn chicken."
Touchdown taco dip
1 can (16 ounces) vegetarian refried beans
1 package (8 ounces) cream cheese, softened
1 cup sour cream
2 tablespoons dry taco seasoning mix
1 teaspoon bottled minced garlic (or 2 garlic gloves, finely minced)
2 ounces shredded cheddar cheese (1/2 cup)
1/2 cup pitted ripe olives, sliced
1 medium tomato, seeded and chopped
1/4 cup thinly sliced green onions
2 tablespoons fresh parsley, snipped
Tortilla chips (bite-sized scoops)
Preheat oven to 350 degrees. Spread refried beans over bottom of a 10-inch round stoneware deep dish. In bowl, combine cream cheese, sour cream and taco seasoning mix. Add garlic and mix well. Spread cream cheese mixture evenly over beans. Sprinkle cheddar cheese over top and bake 15-18 minutes or until hot. Remove from oven. Sprinkle olives, tomato, onions and parsley over dip. Garnish with additional sour cream, if desired. Serve with tortilla chips.
Source: John and Kathy Stover
Atomic buffalo turds
2 pounds fresh jalapenos
2 8-ounce blocks cream cheese (room temperature)
1 cup shredded sharp cheddar cheese
1 heaping tablespoon dry onion
1 tablespoon granulated garlic
1/2 cup or more pulled pork or finely chopped little smokies
1 or 2 tablespoons honey
Barbecue rub
2 pounds bacon
Cut peppers in half lengthwise. Scoop out seeds and membrane and set aside. Set bacon out and let come to room temperature. Mix all remaining ingredients except barbecue rub thoroughly. Fill peppers with mixture. Cut bacon in half. Wrap half slice around each pepper. Sprinkle with barbecue rub. Cook at 225-250 degrees until bacon is one, or about an hour.
Source: Bruce Murrish
Dutch oven Jambalaya
1/4 cup Crisco or bacon drippings
3 pounds cubed pork
2 pounds sliced Andouille sausage
2 cups onions, chopped
2 cups celery, chopped
1 cup bell pepper, diced
8 cups beef or chicken stock
2 cups mushroom, sliced
1 cup green onion, sliced
1/2 cup parsley, chopped
4-5 cups long grain white rice,
or flavor of choice
Salt and pepper to taste
Louisiana hot sauce to taste
In an 8-quart Dutch oven (12 inches deep), heat Crisco or bacon drippings over medium high heat on cooker (12 charcoal briquettes on bottom only). Saute cubed pork until dark brown on all sides and some pieces are sticking to the bottom of the pot, approximately 30 minutes. Add Andouille and saute an additional 10-15 minutes. Tilt the pot to one side and ladle out all oil, except for one large cooking spoon. Add onions, celery, bell pepper and garlic. Add vegetables and saute until all vegetables are well-caramelized. Add beef stock, bring to a rolling boil and reduce heat to simmer (6-8 briquettes on bottom). Cook 15 minutes for flavors to develop. Add mushrooms, green onions and parsley. Season to taste using salt, pepper and Louisiana hot sauce. Add rice, cover and simmer (6-8 briquettes on bottom, 10-12 on top). Cook rice 30-45 minutes, stirring frequently.
Source: Bruce Murrish
Garlic grilled toast
1/2 pound butter
1/2 pound margarine
1 cup parsley, chopped
8-12 cloves of garlic, minced
1/2 cup Romano cheese (optional)
Soften butter and margarine to room temperature. Fold in parsley, garlic and cheese. Spread on loaf of bread cut in thick slices. Place on hot grill until toasted.
Source: www.tailgating.com
Ford field fire eggs
3 dozen hard-boiled eggs
1 large onion
1 large bottle (12 ounces) hot sauce (such as Franks or Louisiana)
1 small bottle (5 ounces) Tabasco sauce
Various hot peppers, sliced
White vinegar
Boil and peel eggs. While eggs are boiling, pour Tabasco and hot sauce into container large enough to hold eggs, onion and peppers. Cut onion and hot peppers into slices. Add eggs and cover with vinegar. Let eggs soak a minimum of 1 week for best results. The longer they soak, the hotter they get.
Source: www.tailgating.com
Copyright 2018 The Lawrence Journal-World. All rights reserved. This material may not be published, broadcast, rewritten or redistributed. We strive to uphold our values for every story published.