Rodrick Stewart stole the basketball at midcourt, and, racing in for an uncontested score, put on a show for 2,000 or so hoops-crazed fans in Slovenia.
"I wanted to get a hard dunk to get the crowd saying, 'Ooh and aah,'" Stewart, Kansas University's 6-foot-4 sophomore guard from Seattle, said with a smile.
Mission accomplished.
His vicious, two-handed slam shattered the backboard, putting an exclamation mark on the U.S. college all-stars' 51-38 victory over KK Olipija on Aug. 16 in the city of Sentjur.
"That's the last thing I expected to happen," said Stewart, the second-leading scorer (13.5 ppg) on the U.S. team that won two of six games in Austria and Slovenia.
"I can dunk hard," he said, "but it's hard to break a backboard."
Known for his high-flying athleticism -- his vertical leap was last measured at 41 inches in high school -- Stewart never had come close to breaking glass before.
"Every player who plays basketball knows Shaq (O'Neal) is one of the only guys who has done it," Stewart said of busting a backboard. "I thought you had to be a big man, a center. I always wanted to do that."
While dodging crystals of glass -- "the whole thing cracked all up," Stewart said -- he jumped into the arms of his teammates, who stormed the court after realizing the game would be called early in the second half because of the equipment malfunction.
Word of Stewart's vicious slam quickly reached his teammates, who since his return Aug. 22 to Lawrence have been teasing him about the play.
"My teammates said, 'I heard you broke the backboard on a jump shot.' Everybody was talking to me about that," Stewart said, laughing.
Stewart -- he hit just three of 30 threes and 34.4 percent of his shots overall his freshman year at Southern California -- is known as more of a slasher than a smooth shooter.
Yet he insists he shot well on the tour -- "I hit three three-pointers (without a miss) in one game," he said -- and has improved his stroke through hard work this summer.
"My shot is coming along great. There's a drastic change in my shot," Stewart said. "I have been shooting every day. Coach tells me to not stop until I make 600 a day, every day. It could take me an hour and a half or two hours, but I make 600 a day."
KU coach Bill Self says Stewart's shot has come a long way since his arrival last winter at KU. Stewart averaged just 4.4 points a game while starting 17 of 27 games his rookie year at USC.
"Based on what I've seen, his shot has improved," Self said of the 205-pound Stewart, who will be eligible to play in games at the conclusion of first semester.
"I think what the trip did was give him confidence," Self said. "Rodrick will be a guy who is high energy, a great defender, loose ball guy, more of a 2, 3, 4 (position), though he can play all the perimeter positions."
Stewart played point guard at USC and also ran the show some on the U.S. collegiate tour.
"Anybody can bring the ball up the court," Stewart said. "I can do that. I wouldn't blame my stats at USC on playing the point. I was just inconsistent like all freshmen, just hit a freshman slump like all freshmen.
"I think I'm more of a 2-guard. My favorite player is D. (Dwyane) Wade. I try to play like him, but that is a whole 'nother level."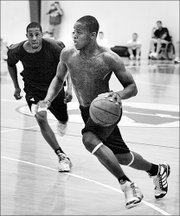 Stewart is not KU's only high-flying player from Washington. He was a Rainier Beach High teammate of KU's shot-blocker deluxe, C.J. Giles. And KU rookie Micah Downs is from the Seattle suburb of Kirkland.
"Yes, he blocked my shot a lot in high school. He's one of the best shot blockers I've seen," Stewart said of Giles. "He's always been a shot blocker. I mainly tried to dunk on him.
"He's improved so much," Stewart added of the 6-10 Giles. "He's been working hard. Everybody's been working hard, putting in time in the gym."
Giles is equally enthused about the play of his buddy, Stewart.
"He was one of the inspirations getting me to play," Giles said of the twin brother of USC junior Lodrick Stewart. "He's athletic, can jump out of the gym and shoot the ball."
Stewart said he was raring to begin his KU career after showing his stuff on the college tour.
"The coaches thought it would be good for me since I hadn't played in a while and won't play in games first semester," Stewart said. "I think I gained a lot of experience and got a lot out of it. I'd recommend it to anybody. Now I'm ready for our season. I wish it'd start today."
---
Editors note: The Journal-World interviewed guard Rodrick Stewart for this story Aug. 18. He was unavailable for comment concerning his suffering a cut Sunday at Abe and Jake's Landing.
Copyright 2018 The Lawrence Journal-World. All rights reserved. This material may not be published, broadcast, rewritten or redistributed. We strive to uphold our values for every story published.