How much Meghan Miller meant to Kansas University's soccer team last season was punctuated by the preseason Big 12 Conference coaches poll.
With Miller in goal, KU shared the 2004 league championship with Texas A&M.;
Now, with three All-Americans back but with the graduated Miller a volunteer coach, KU has been tapped fourth in this fall's league race.
KU coach Mark Francis has three candidates to replace Miller, but he isn't sure which will be in goal when the Jayhawks open the season this weekend.
"Meghan was so much better than everybody else," Francis said, "it made picking the goalkeeper easy."
KU is scheduled to meet Michigan at 2 p.m. today and Wisconsin at 2 p.m. Sunday, both on the artificial surface at Topeka's Hummer Sports Park. The games were moved because of wet grounds at the Jayhawk Soccer Complex.
Of the three possible replacements for Miller, sophomore Colleen Quinn and freshman Julie Hanley have moved ahead, Francis said, of senior Erin Ferguson.
Earlier in the week, Francis was undecided about Miller's successor, but said: "I guarantee you by Friday we will have one person in goal."
Quinn worked in front of the net during the first half of Saturday's 2-1 exhibition victory over Drake. Hanley took over for the second half and allowed the only goal. Each was credited with one save.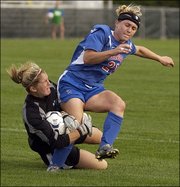 Whoever Francis taps today will be aided considerably by the presence of a raft of experienced defenders, notably Holly Gault, a first-team All-Big 12 selection as a sophomore last season.
Gault and sophomore Afton Sauer also earned All-America consideration last season. Other seasoned defenders returning are Danika Erickson, Nikki Alvarez and Kelsey Archuleta.
KU's other All-American, forward Caroline Smith, will trigger an offense that was hit hardest by graduation. Every time Smith, a senior, makes a goal or is credited with an assist, she adds to her school career scoring record.
Of the six freshmen Francis brought in, five are either forwards or midfielders. The sixth is goalkeeper Hanley.
"I certainly have to do more coaching this year," Francis said, "which is scary."
KU's early schedule against a pair of Big Ten schools, including ranked Wisconsin, is a little scary, too.
"You can start a season against easy opponents and build confidence," Francis said, "but I tend to go the other route. The only way to test your defense, for example, is to play teams that will test it, and we'll definitely be tested this weekend."
All in all, though, Francis sounds like he believes league coaches may have underestimated his team.
"This group could be more talented than last year," he said. "The chemistry seems to be good. So I'm excited about this group."
Copyright 2018 The Lawrence Journal-World. All rights reserved. This material may not be published, broadcast, rewritten or redistributed. We strive to uphold our values for every story published.