Mark Kaplan said he believes the keys he gave city leaders Monday afternoon open much more than the front door to the 1860s-era Murphy-Bromelsick home in Hobbs Park.
As he officially turned over possession of the home to the city's Parks and Recreation Department, Kaplan said the city now had the keys to begin better telling the story of Lawrence's role in sparking the Civil War.
"There was nothing more exciting in these people's lifetime than the efforts to ensure Kansas became a Free State," Kaplan said. "This is not just local history, it is not just national history. It is world history that happened in Lawrence, Kansas. We need to sell that to visitors and our residents. It is good economics and it is good for our culture."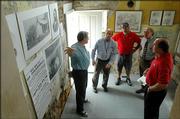 Preservationists - aided by $111,000 in city funds - spent approximately $250,000 and eight years to move the 500-square foot stone home, once set for demolition, from 909 Pa. to Hobbs Park, near 10th and Delaware streets. The 1866 home was built after William Quantrill's 1863 raid of the city and the Civil War, but it sits on property that once was the farmstead of nationally renowned newspaper publisher and abolitionist John Speer. The site also was used by John Brown as a staging area for 115 riflemen to hold off pro-slavery guerillas.
That combination of history has Kaplan and others hoping that the entire Hobbs Park area could develop into a significant draw for tourists and others wanting to learn about Bleeding Kansas history. Kaplan said he also can envision the former Lawrence livestock sale barn site, which is adjacent to Hobbs Park, becoming the home for a much talked about national abolitionist museum.
City officials said they wanted to do their part to make the home a good resource for people interested in the city's history.
"They have done such a great job starting this," said Fred DeVictor, whose crews will be responsible for maintaining the property. "We just need to keep moving forward with it."
DeVictor said the property would be opened to various groups for historical-related events. For example, Bill Tuttle, a professor of American Studies at Kansas University, said he planned to approach the city about using the home to host an after-school history club.
City commissioners agreed last month to take over responsibility of the home after Kaplan asked commissioners to budget $50,000 to the Lawrence Preservation Alliance to complete restoration of the building. Commissioners instead said they thought it was time for the city to take over control of the building, which already sat on city property.
Kaplan said he was pleased with that decision because it would provide the building more stable funding. City Manager Mike Wildgen said work would soon begin to complete some electrical work on the house. He said the entire renovation project likely won't be done for a couple years.
Renovation costs are estimated at about $50,000. The project has helped the city garner some federal funding. The house originally received a federal Save America's Treasures grant for approximately $100,000 in 2003. But the house later was found to be ineligible for the grant because it was not listed on the register of historic places. City officials were able to transfer the grant to the renovation of the historic Carnegie Library at Ninth and Vermont streets.
Copyright 2018 The Lawrence Journal-World. All rights reserved. This material may not be published, broadcast, rewritten or redistributed. We strive to uphold our values for every story published.