Tokyo — A powerful magnitude-7.2 earthquake struck northeastern Japan today, triggering two small tsunamis and shaking skyscrapers as far away as Tokyo, 185 miles to the south. At least 27 people were reported injured.
A caved-in roof at an indoor pool in the coastal city of Sendai injured 14 people, national broadcaster NHK reported. Others in the quake zone had were hurt by falling rocks and tumbling roof tiles.
Television footage showed a collapsed house outside Tokyo and landslides in the quake-hit area.
"The horizontal shaking was very strong, so much so that I almost couldn't remain standing," said Masami Oshima, an official with Miyagi state, which includes Sendai.
Kyodo News said there were preliminary reports of 27 people injured; it was not clear if that number included those injured in the roof collapse.
The quake knocked out power to about 17,000 households, while bullet train services in northern Japan were suspended and flights were temporarily grounded at Tokyo's Haneda airport.
The quake hit around 11:46 a.m. and was centered 12 below the ocean floor about 50 miles off the coast of Miyagi in northeastern Japan, the Meteorological Agency said.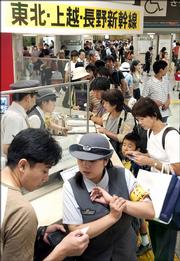 Two tsunamis that were originally forecast to be 20 inches in height hit the coast with 4-inch waves; officials expected little damage. Tsunami waves are often barely noticeable in the ocean but can rise to great heights once they arrive at shore.
The quake was followed by at least four aftershocks and additional quakes of up to magnitude 6 could follow, the agency said.
In 1995, a magnitude-7.3 quake in the western port city of Kobe killed 6,400 people. The depth and offshore location of Tuesday's quake helped limit the damage that might have occurred had the earthquake been centered under a city.
One person injured in the roof collapse was seriously hurt, NHK said. Separately, a 72-year-old man sustained a broken leg, news reports said, while a 7-year-old child was injured by falling rocks in the town of Zao, according to local official Mitsuharu Shishido.
The U.S. Geological Survey and Japan's Meteorological Agency both measured the quake at a magnitude of 7.2.
Copyright 2018 The Associated Press. All rights reserved. This material may not be published, broadcast, rewritten or redistributed. We strive to uphold our values for every story published.