I love biking around Lawrence. My husband and son meander about town with me in no real hurry, stopping at parks to play on equipment or letting my son dart through fountains, wading pools or puddles.
We try to make the most of the city's green spaces, and it's clear the Parks and Recreation Department does its best to make our experience enjoyable.
The parks we like best have gorgeous landscapes that are envisioned and maintained by city horticulturists, who have spent decades cultivating lush spaces where people can exercise or unwind. The city's gardens add incalculable appeal to our town.
Crystal Miles, Parks and Recreation horticulture supervisor, has been beautifying Lawrence for 24 years. She began her gardening career as a summer laborer while earning a horticulture degree from Kansas State University, but her initial interest in green spaces began at a young age.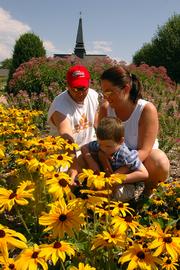 "Trees were of interest to me as a youth in the 4-H forestry program. Later, I learned about landscaping, through the vocational agriculture classes at Lawrence High, taught by Stan Larson," she says. "I was very interested in plants and took my childhood leaf collection of over 100 tree leaves with me to a job interview to work for the Parks and Recreation seasonal position when I graduated from high school.
"Fortunately, I was hired and became the only female working in the parks at the time. Many of our parks staff, including myself, grew up on a farm and have a common connection with plants."
Miles and her staff of horticulture professionals adhere to the mantra form follows function when designing Lawrence parks. For instance, they'll plan tree plantings based on shade considerations and screening unsightly views.
"Trees are the backbone of gardens and parks and bring human scale to large areas. Trees are essential to our livelihood and quality of air," Miles says. "Our parks department has planted over 20,000 trees in my 24-year tenure. This is very labor-intensive work, and many staff members have made this a priority to make sure Lawrence has trees."
Other landscapes have been created expressly to enhance entrances to Lawrence, Kansas University and city buildings.
"Everyone needs green space to help connect and cope with the changes and stress of our lives," Miles says. "Landscaping, again, brings human scale to large buildings and streets, and many times surroundings will dictate the style of the landscape areas - such as the French theme garden at the Union Pacific Depot (that was) designed by the late John Lee to complement the architecture of the building. Here native and adaptable plants were installed to thrive with minimal maintenance. We strive to plant the right plants in the right place, and this is the key to many of our successes."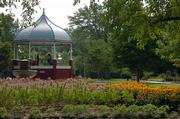 The goal of city landscaping, Miles explains, is to heighten the quality of life for Lawrence residents by providing functional places of beauty in their everyday surroundings.
"This may happen in a park, a traffic island, the downtown shopping district or near a public building," Miles says. "In addition, we often get requests to work with other city departments to answer technical questions about landscaping or tree preservation and serve as support staff on their projects."
Favorite spots
I have lived in Lawrence off and on most of my life, and I've never seen the landscaping look as gorgeous as it has the last few years. Many businesses are taking a spade and rake and following in the parks department's footsteps.
We all have our favorite green spaces, whether it's because of the location, the amenities, the beauty - or maybe just the people watching.
Miles' favorite gardens are the newly renovated sunken flower beds with the fountain and landscape roses at South Park.
"A mentor of mine, and former park supervisor, the late Ellsworth Rice, was especially fond of roses, and I believe today he would be especially content to eat his lunch in the park among the fragrant roses and shade trees," she says.
Another of her favorite places is the Japanese-style garden near the corner of 11th and Massachusetts streets, which she believes rivals many similar gardens in the Midwest. She says the garden attracts many downtown patrons and children.
"Our own staff also learned how to move large boulders with ancient-style equipment and created a really special place to display plants, sculpture and share culture," she says. "Many local people have contributed towards the friendship garden's success in their own way ... whether it be knowledge, skills, funds or support."
On the horizon
Future plans for Parks and Rec include adding more flowers, shrubs and trees to the newly built Rotary Arboretum waterfall gardens at 5250 W. 27th St. Also to be completed in South Park this summer is a raised garden for children, to include fragrant perennials and flowers that attract butterflies.
"We had a small herb garden such as this over 30 years ago, so this will be a repeat of the past, and we will be continuing to add new flowers to the downtown shopping district," Miles says.
Thanks to some of the revenue from the city's sales tax going to the parks department, more than $30 million has been used for facilities, plants and operation costs since 1994. So make an attempt to get out and enjoy the fantastic parks and gardens Lawrence has to offer. They belong to us and, like any well-tended garden, they continue to improve with every growing season.
Featured parks
There are 52 parks in Lawrence. These are some of the larger ones: ¢ Broken Arrow Park, 2900 La., 20 acres, shelters, playground equipment, sporting fields, barbecue grills. ¢ Burcham Park, 200 Ind., view of Kansas River, nature trails, playground equipment, shelter. ¢ Holcom Park, 2601 W. 25th St., lighted baseball diamonds, concessions, sporting fields and courts, shelter, playground equipment, barbecue grills. ¢ "Dad" Perry Park, 1200 Monterey Way, 45 acres, nature trails, sporting fields and courts, shelter, playground equipment, barbecue grills. ¢ South Park, 1141 Mass., bandstand, rose garden, wading pool, playground equipment, recreation center. ¢ Centennial Park, 600 Rockledge Road, 35 acres, 18 hole disc golf course, skate park, shelter, playground equipment, barbecue grills. ¢ Martin Park, Peterson Road and East 1130 Township Road, 19 acres, nature trails, barbecue grills. ¢ Prairie Park, 2811 Kensington Road, sporting fields and courts, playground equipment, trails, Mary's Lake, shelter, barbecue grills. ¢ Buford M. Watson Jr. Park, between Sixth and Eighth streets and Kentucky and Tennessee streets, aquatic center, playground equipment, shelter, ice skating (seasonal).
Copyright 2018 The Lawrence Journal-World. All rights reserved. This material may not be published, broadcast, rewritten or redistributed. We strive to uphold our values for every story published.