New York — Who wears short shorts? Daisy Duke wears short shorts, and - if you can believe it - Jessica Simpson's denim cutoffs in the new "Dukes of Hazzard" movie are even cheekier than Catherine Bach's were in the old CBS series.
Besides the trusty orange General Lee Dodge Charger, the Daisy Duke shorts are probably the best remembered icon from the Dukes' TV days (1979-85) and the most anticipated one in the new film that also stars Seann William Scott, Johnny Knoxville and Burt Reynolds.
Costume designer Genevieve Tyrell says the shorts were the first thing in the entire wardrobe she tended to.
"It's the cornerstone of the whole look. We started with dozens of cuts of jeans, colors, fits. We cut them off, washed them to give them a raw edge and then Jessica walked into trying on 25 pairs," she says.
Living in fictional below-the-Mason-Dixon-line Hazzard County, the Dukes are simple country folks, and their wardrobe reflects that: faded jeans for Bo and Luke, and Daisy's waitress "uniform" - a belly-baring, body-hugging T-shirt with the name "Boars Nest" across the chest. The teeny-tiny shorts she wears with it literally stop traffic - not an easy feat in the rural community where dirt roads double as a racetrack.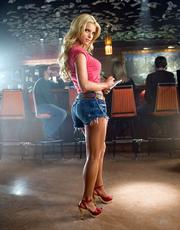 Unlike in the TV show, Simpson's Daisy Dukes don't get help in that department from the glare.
"From the day I signed my contract, everyone asked me, 'So, are you going to put her in the pantyhose?'" Tyrell recalls with a laugh.
While Bach did indeed add a little extra nylon sheen to her legs in the TV series, Simpson goes bare.
Tyrell says she knew it would be a balancing act to give Simpson costumes that would satisfy loyalists while creating a modern look.
Simpson's shorts definitely sit lower on the hips but the "hem" actually looks a tad bit longer than the shorts that hit Bach above her hip bone.
The hem on the front part of the thigh arcs up, then it arcs down around the hips into a downward curve in the back to help keep the rear of the shorts in place.
"When they're hanging on a hanger, they're minuscule. All her (Simpson's) wardrobe fits into one box because everything is minuscule."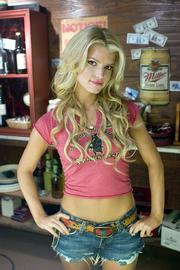 Tyrell adds: "As Jessica got more comfortable in her role as a rootin'-tootin' sex symbol, her hemline rose. ... But she's inherently a modest girl; she's a little bit shy. The director (Jay Chandrasekhar) and (Simpson) made a deal that if she wore the shorts that short, on the last day of shooting he'd wear a pair of 'Daisy Dukes' - and he did."
The exclamation point to Simpson's barely-there outfits are red leather sandals with ankle straps and gold-colored spike heels. "They're not just hot," says Tyrell, "they're tough."
She also wears a wallet chain that clips to her belt - a custom-made leather one with a floral pattern that is more biker-chic than Laura Ashley.
"They're all things you could've gotten in Hazzard County. Everything had to feel somewhat real to the position the Dukes are in and where they're from," Tyrell says.
But as a mom in Los Angeles, Tyrell, whose other credits include the HBO show "Entourage" and the 2003 film "Freaky Friday," says she personally steers clear from most of the sexy, country-girl wardrobe.
"Is there anything I'd wear? The red-and-white check Shoshanna bustier, and I love the Trashy Lingerie red shoes and the True Religion super-distressed denim, and the D&G; bra that peeks out from her shirts. I don't think I'd wear the leather vest. And would I ever have worn the Daisy Dukes? No way, Jose!" she says.
"I only wear things just above the knee. ... There was never a time in my life I would've worn them. I'm just not that girl."
Apparently, though, there are a lot of urban women who are fans of the look.
Khajak Keledjian, the owner and CEO of Intermix, a Manhattan-based mini chain of chic boutiques, says short shorts have been very popular this summer. The favorite style is looser cotton shorts with a cuffed bottom in neutral safari colors, he says.
"They're being worn in a cool way, not overtly sexy in a way that you'd wear in South Beach (Fla.) when you're Rollerblading or skateboarding," Keledjian says.
It's the first season that shorts have sold well in quite a few years when consumers preferred capris and clamdiggers.
"Women are showing a lot of leg, but it's not vulgar. It's being done tastefully, elegantly. You don't want to be too exposed, wearing short shorts with T-shirts that show your belly and very high heels," Keledjian says.
That newsflash must not have reached Hazzard County yet.
Copyright 2018 The Associated Press. All rights reserved. This material may not be published, broadcast, rewritten or redistributed. We strive to uphold our values for every story published.