New York — Wall Street ended a volatile week with a big advance Friday as oil prices tumbled below $50 per barrel and jittery investors took solace in a pair of economic reports that eased their inflation concerns. The Dow Jones industrial average gained 122 points for the session, but the major indexes finished the week mixed.
A late selloff in crude futures helped Wall Street solidify its gains in an otherwise uncertain session. A barrel of light crude settled at $49.72, down $2.05, on the New York Mercantile Exchange, its lowest level since Feb. 18. Oil prices began the week above $55 per barrel.
The buying was further buoyed by economic data that showed prices and labor costs remained in check. The Commerce Department reported a 0.5 percent increase in income and a 0.6 percent increase in spending for March, and the Labor Department said labor costs for businesses were falling. Both are key inflation readings that bode well for interest rates and the economy.
"I think it's well recognized that oil is one of the risk factors in the economic picture, and this drop is helping the market," said Richard Rippe, chief economist for the Prudential Equity Group. "A decline is both beneficial to the inflation outlook and prospects for demand and growth. Oil prices are still high, no mistaking that. But it helps."
The Dow rose 122.14, or 1.2 percent, to 10,192.51.
Broader stock indicators also moved sharply higher. The Standard & Poor's 500 index was up 13.63, or 1.2 percent, at 1,156.85, and the Nasdaq composite index gained 17.47, or 0.9 percent, to 1,921.65.
Bonds dropped after Thursday's rally, with the yield on the 10-year Treasury note rising to 4.20 percent from 4.15 percent late Thursday. The dollar fell against most major currencies, while gold prices rose.
Despite the gains, the market finished the week mixed, with the Dow up 0.34 percent, the S&P; gaining 0.41 percent and the Nasdaq losing 0.55 percent.
Analysts attributed the market's volatile day-to-day swings to nervousness over Tuesday's Federal Reserve meeting. The Fed is expected to raise the nation's benchmark interest rate by a quarter percentage point to 3 percent, but Wall Street was more interested in the Fed's take on the economy.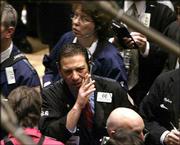 "Investors are very anxious to see if the Fed is going to become more aggressive in its inflation talk," said Peter Cardillo, chief strategist and senior vice president at S.W. Bach & Co. "There's been a lot of damage done over the past few weeks, and until we get a new catalyst that can reverse this market sentiment, it's going to be touch and go."
Investors hope that a bullish report could lift the market out of its April slump. For the month, the Dow fell 2.96 percent, the S&P; lost 2.01 percent and the Nasdaq tumbled 3.88 percent.
Microsoft Corp. gained 85 cents to $25.30, lifting the Dow Jones industrials as the software company doubled its quarterly net income from a year ago, though revenue fell short of Wall Street's expectations. The company gave a stronger-than-expected profit outlook as well.
Retailers sold off after the University of Michigan's consumer confidence report showed a larger-than-expected drop in consumers' optimism about the economy. Wall Street feared that shopping and big-ticket tech spending could be curtailed by cautious consumers.
Online retailers led the declines, as Amazon.com Inc. shed 16 cents to $32.36, Shopping.com Inc. dropped 23 cents to $13.15, and online delivery service Provide Commerce Inc. tumbled 31.3 percent, or $8.03, to $17.65 after a particularly disappointing earnings report. The weakness spread to bricks-and-mortar retailers. Wal-Mart Stores Inc. fell to a new 52-week low during the session, but managed to close 9 cents higher at $47.14.
A report in the Daily Deal newspaper said Oracle Corp. was in possible takeover talks with Siebel Systems Inc., a fellow software developer. The news sent Siebel shares rising 41 cents to $9, while Oracle slipped 6 cents to $11.56.
Sun Microsystems Inc. climbed 5.2 percent, or 18 cents, to $3.62 after a published report said the high-end computer company was discussing a leveraged buyout with private equity firm Silver Lake Partners.
A day after disappointing earnings from Exxon Mobil Corp., ChevronTexaco Corp. also reported modest profits that failed to meet Wall Street's expectations. Income grew just 4 percent, despite soaring crude prices, and the company missed analysts' forecasts by 10 cents per share. ChevronTexaco nonetheless rose 85 cents to $52, while Exxon Mobil Corp. gained $1.03 to $57.03 after falling 4.1 percent Thursday.
Medical supplier Cardinal Health Inc. added 56 cents to $55.57 after posting a 15 percent drop in profits from a year ago due to higher costs and restructuring charges. Revenues were strong however, and the company still beat Wall Street's expectations by a penny per share after charges.
Advancing issues outnumbered decliners by nearly 2 to 1 on the New York Stock Exchange, where volume came to 1.88 billion shares, compared with 1.69 billion at the same point on Thursday.
Copyright 2018 The Associated Press. All rights reserved. This material may not be published, broadcast, rewritten or redistributed. We strive to uphold our values for every story published.