Cleveland — Of all the impressive numbers encircling C.C. Sabathia this week, one zero stood out.
Sabathia pitched seven shutout innings in his first start since signing a two-year, $17.75 million contract extension as the Indians beat Kansas City, 6-0, Friday night, handing the Royals their ninth straight loss.
Sabathia (2-0) had his third straight strong start since being activated from the disabled list April 16. The left-hander was never in trouble in holding the staggering Royals (5-18) to three hits.
He walked one, struck out four, lowered his earned-run average to 0.92 and beat Kansas City for the first time in six decisions. Sabathia hasn't allowed a run in his last 12 innings.
"I really wanted to win, especially against Kansas City," he said. "They've worn me out the last five games. And it feels good to do it right after getting the contract this week."
Kansas City has lost nine in a row for the first time since 2001.
Ben Broussard had three RBIs, and Ronnie Belliard drove in two runs off Zack Greinke (0-2) for Cleveland. Travis Hafner went 3-for-3 with an RBI for the offensively challenged Indians, who came in batting a major-league-worst .226.
"We needed this," Broussard said. "I think everybody knows our offense is a lot better that it has been."
Kansas City managed only a double and two singles off Sabathia, and the Royals got just one runner to second off him. But Ken Harvey, who doubled with one out in the fourth for Kansas City's first hit, stayed at second when Sabathia got Eli Marrero to fly out and retired Emil Brown on a comebacker.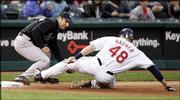 The Royals put runners at second and third with two outs in the eighth off David Riske, but couldn't score.
Rafael Betancourt pitched the ninth to finish the three-hitter and Cleveland's first shutout of 2004. It was also the Indians' first shutout of the Royals since May 11, 2000, a span of 89 games.
Sabathia's decision to accept a new contract and not test the free-agent market after the 2006 season was a huge step for the rebuilt Indians. Owner Larry Dolan has committed to signing young players to multiyear deals, but none was as important as locking up the 24-year-old Sabathia, who is 56-35 since coming up in 2001.
"Nothing C.C. does surprises me," Indians catcher Victor Martinez said. "He's not afraid of anybody. He'll give you pitches to hit, but you can't always hit them. I've seen C.C. do that for a while."
Belliard, who came in with a team-leading .294 average, put the Indians ahead in the second with a two-run double.
Hafner singled leading off and went to third when first baseman Mike Sweeney fielded Casey Blake's grounder but threw wildly into left. One out later, Belliard brought in both runners by lining a double over a leaping shortstop Angel Berroa into the gap in left-center.
"Whenever I had to make a critical pitch, I choked," Greinke said. "I threw meatballs and they didn't miss them. It was a tough night. I threw Belliard two good breaking balls that he fouled off. I wanted to come back with a fastball high and in, but I threw it down the middle. It was a terrible pitch."
The Indians added three runs in the third and also got consecutive hits for the first time in 31 innings, a stunning statistic for a team that batted .276 last season. Hafner hit an RBI single and Broussard drove in two more with a base hit.
Cleveland made it 6-0 in fifth, again helped when Brown dropped a popup in short right. The Indians loaded the bases before Broussard blooped a run-scoring single.
When: 12:05 p.m. todayWhere: Jacobs Field, ClevelandPitchers: Denny Bautista (1-1) vs. Cliff Lee (2-0)TV: Sunflower Broadband Channel 6
It was Greinke's second poor outing against Cleveland this season. He allowed four earned runs and eight hits in 4 1-3 innings. On April 18, he gave up five runs and seven hits in five innings.
Notes: Indians 3B Aaron Boone's slump worsened. He went 0-for-4 and is now 6-for-52 (.115) since April 10. ... Kansas City's longest losing streak was a 12-game slide in 1997. ... Riske hasn't allowed an earned run in 9 2-3 innings this season. ... Indians manager Eric Wedge juggled his lineup for the second straight game, batting Grady Sizemore in the leadoff spot. On Thursday, Belliard hit first instead of Coco Crisp, who was No. 1 in the lineup for Cleveland's first 20 games. Sizemore went 0-for-4. ... Coming into the weekend, the Royals were batting .283 on the road and .214 in 14 home games.
Copyright 2018 The Associated Press. All rights reserved. This material may not be published, broadcast, rewritten or redistributed. We strive to uphold our values for every story published.