RAMALLAH, West Bank — Russian President Vladimir Putin promised Friday to provide the new Palestinian leaders with helicopters and other equipment and training to help maintain order after Israel's promised withdrawal from the Gaza Strip and parts of the West Bank this summer.
In the first visit to the Palestinian territories by a Kremlin leader, Putin also pledged to help the Palestinians rebuild their infrastructure with an eye toward a viable Palestinian state in the West Bank and Gaza.
And in a nod to Israel, Putin promised any assistance to the Palestinians would be coordinated with both sides, saying "we want this cooperation to be absolutely open."
The Palestinians and Moscow have a long history of political and cultural cooperation dating to the Cold War, when the Soviet Union backed Arab states and the Palestinians in their fight against the U.S.-backed Israelis. About 15,000 Palestinians, including their leader Mahmoud Abbas, studied in Russia. In recent years, however, Russian ties with Israel have warmed -- and Putin said Friday his visit had "turned over a new page" with Israel.
His three-day Mideast trip is seen as an attempt to bolster Russia's international standing and raise its profile in Mideast peacemaking.
"We will provide the Palestinian leadership with technical help, supplies of equipment and training of personnel," Putin said after a two-hour meeting with Abbas, who greeted him warmly at the Palestinian headquarters, known as the muqata.
Israel has reacted coldly to a Russian proposal to give the Palestinians 50 armored vehicles, fearing they could fall into the hands of militants. But Putin said the Palestinians would need resources to bring order to their territories and heed Israeli and international calls to rein in militants.
"If we expect chairman Abbas to fight terrorism effectively, he can't do it with slingshots and stones," Putin said.
Palestinian Foreign Minister Nasser Al-Kidwa said Russia would provide the Palestinians with two helicopters, and that talks on supplying armored vehicles would continue.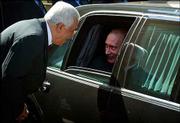 Khairi al-Oriedi, the Palestinian representative to Moscow, said the two Russian helicopters would be used to transport Abbas. Israel destroyed the Palestinian Authority's presidential helicopters as part of its campaign to limit the movement of the late leader Yasser Arafat.
Putin also said Russia was looking at ways to help rebuild the Palestinian economy and infrastructure, badly damaged in more than four years of fighting with Israel.
Copyright 2018 The Associated Press. All rights reserved. This material may not be published, broadcast, rewritten or redistributed. We strive to uphold our values for every story published.