The University of Missouri sent an administrator to Lawrence this week to examine claims MU's police chief manhandled a KU student during a March basketball game between the two schools.
Chris Kaufman, the student involved in the March 9 scuffle with MU Police Chief Jack Watring, said he was interviewed Thursday by MU administrator Lisa Wimmenauer.
Kaufman said Wimmenauer spoke with him, and other friends who were at the game, for about an hour.
"She had us demonstrate what happened, make some drawings, that kind of thing," Kaufman said.
Kaufman said Wimmenauer also asked him what he wanted from the university. He said he didn't want money.
"We just want the truth to come out," Kaufman said. "He was wrong in his behavior, and at the very least we deserve a public apology from him and the school."
Kaufman said the confrontation began when Watring took down a banner Kaufman and his friends brought to the game that poked fun of MU's new arena. Kaufman said he told Watring he had permission to hang the sign, and when he tried to take it back, Watring grabbed him by the collar and said, "Do you know who I am? I'm the chief of police of the University of Missouri."
Shortly afterward, police ejected one of Kaufman's friends, KU graduate Andrew Wymore, and arrested him when he tried to re-enter the arena. Wymore said he was ejected merely for saying that the sign was their property.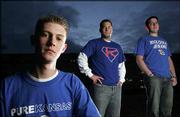 Wymore's case has been referred to the Columbia city prosecutor's office, but a court date hadn't been set as of Friday.
Wymore said he has a phone interview scheduled Monday with Wimmenauer.
MU spokeswoman Mary Jo Banken confirmed the school is still investigating, but she said she couldn't discuss any details.
Capt. Brian Weimer, a spokesman at the MU Police Department, said Watring would not talk about the case while it's under investigation.
Wimmenauer did not return a phone call.
Copyright 2018 The Lawrence Journal-World. All rights reserved. This material may not be published, broadcast, rewritten or redistributed. We strive to uphold our values for every story published.