Buildings evacuated because of gas leak
Part of downtown Lawrence was temporarily evacuated Friday because of a natural gas leak.
The gas leak happened behind Free State Brewery in the 600 block of Massachusetts at 9:28 a.m., a dispatcher said. Lawrence-Douglas County Fire and Medical, above, was then dispatched to the scene.
"Someone with the Free State building was doing some maintenance work and tried to shut off the gas," said Bill Stark, Lawrence-Douglas County Fire and Medical battalion chief.
Workers with Aquila shut off the gas and repaired a valve, Stark said.
The evacuation ended by 10:15 a.m.
Courts
Suspect flees court, caught after chase
A man ordered to jail Friday morning instead bolted from a Lawrence courtroom, only to be captured less than a block away.
The incident happened just before 11 a.m., after Douglas County District Judge Paula Martin revoked Joshua L. Supernaw's bond on an aggravated battery charge.
The 24-year-old Valley Falls man ran out the front door of the Judicial and Law Enforcement Center, 111 E. 11th St., as officers tried to escort him from the courtroom.
After a brief foot pursuit, Supernaw was captured, hiding behind a van in the parking lot just north of Scotch Fabrics along New Hampshire Street. He was taken to Douglas County Jail.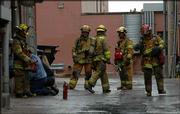 Supernaw was not in custody before Friday's hearing, nor was he wearing any restraints.
Police
Drums stolen from downtown music store
Two drums worth $400 disappeared from Richard's Music Co. early Wednesday morning after someone bashed in a shatter-proof glass door and apparently climbed through it.
"They left some blood and some hair, so they didn't get through unscathed," manager Jeff Jackson said.
The theft happened between 1:30 a.m. and 9:20 a.m. The store, at 716 1/2 Mass., is installing a security system, Jackson said.
Police are investigating, but, as of Friday, had no suspects.
Man accidentally shoots himself
A Douglas County man accidentally shot himself in the leg Friday as he worked on a shotgun inside his home near Lone Star, sheriff's officials said.
Jimmy L. Johnson, 65, was injured about 10:30 a.m. as he handled a 16-gauge shotgun inside his home in the 800 section of East 661 Diagonal Road, said Lt. Kathy Tate, a sheriff's spokeswoman. Tate said it appeared Johnson didn't realize the gun had a shell in it.
Johnson was taken by air ambulance to University of Kansas Hospital, Kansas City, Kan. A condition report wasn't available Friday evening.
Copyright 2018 The Lawrence Journal-World. All rights reserved. This material may not be published, broadcast, rewritten or redistributed. We strive to uphold our values for every story published.