Duke University basketball coach Mike Krzyzewski may not have many fans in Lawrence -- his Blue Devils have stopped Kansas University's hoop dreams a time or two -- but his appearance before a crowd of a few dozen people at First Southern Baptist Church didn't elicit a single boo.
Or even a groan.
"We're here for what he has to say, not the college he coaches," said Gary Connelly, a true-blue KU fan. "I'm certainly not that interested in his team."
But Connelly and about 50 other people were attentive to Krzyzewski's lessons of leadership, shared as part of an all-day simulcast seminar: "The Influential Leader: Unleashing Power in People."
The seminar, conducted from Atlanta, was sent by satellite to more than 600 locations in the United States and abroad. The event linked several prominent business leaders and leadership experts with people looking to learn from their successes.
Connelly, a service technician at Jim Clark Motors, said advice from all the speakers -- even Krzyzewski -- would help him in the business world. He's been working on cars for 22 years, but there's never time for complacency.
That's one of the lessons Krzyzewski emphasized during his presentation, beamed up on a big screen in the church's 355-seat sanctuary.
"It's all about people," Connelly said, summing up the knowledge he picked up Friday. "It doesn't make a difference whether you're a coach or a maintenance technician or anything else; it's all about people."
Recent retiree Kerry Wolfington, Lawrence, attended the event. He'd spent 34 years with what is today SBC Communications, ending as central office operations manager in Lawrence, Topeka, Manhattan, Emporia and Kansas City, Kan.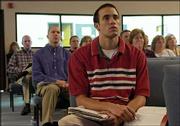 "Even after 34 years, I still picked up some things," he said. "The key is, 'Don't let the situation ruin the relationship.' You can have a bad situation, but don't use that situation to overreact and make it ruin the relationship.
"I knew all this already, but this has just crystallized it."
Wolfington figures that such seminars will become increasingly popular in the coming years, as businesses look for ways to cut travel costs and improve access to training and other educational outlets.
James Bush, pastor of First Southern Baptist, is counting on it. He signed on to the "Maximum Impact" simulcast for about $5,000, then agreed to sell tickets: $79 in advance, or $99 at the door.
He figures he'll come close to breaking even this time around, but is hoping for even more attendance next year. He noted that the program brought together a formidable lineup of experts -- leadership and management author Marcus Buckingham, for one, normally turns down engagements that pay less than $50,000 -- for a relatively low price per person.
"This is an investment," Bush said. "We want to be known as the church that's taking care of business."
Copyright 2018 The Lawrence Journal-World. All rights reserved. This material may not be published, broadcast, rewritten or redistributed. We strive to uphold our values for every story published.