Most families can boast an heirloom. Sometimes it's jewelry, a wedding dress, or perhaps antique furniture.
But Lawrence resident Rachel Senner, 83, passed along peonies to her children -- a flowering plant brought from Russia by her ancestors.
"The flower -- it depends so much on people who have it, transmitting the story behind it to their children," Senner said.
Senner's family brought a peony with them when they immigrated to the United States from Russia in 1874, two years before Custer's Last Stand. Her relatives were German Mennonites who also brought red wheat to Kansas.
Since her ancestors arrived, the peony plant has been maintained and divided so it can be passed from generation to generation.
If family members moved, the flower moved with them, Senner said.
Residing at Pioneer Ridge Retirement Community, 4851 Harvard Road, with her husband, Robert, Senner no longer has a peony plant. But her nephew, who lives in Topeka, brought her a large red-violet bloom from the original.
"When you stop to think, in 1874 they were on the ship for weeks at a time," Senner said. "It wasn't like overnight like it is now. I'm sure the plant was in a dormant state. But it still had to be taken care of in one form or another and I think it's surprising that they did."
Peonies are easy to grow and maintain compared with many other flowers and plants, said Mary Leonard, a master gardener for the Douglas County Research and Extension Office. The Midwest is a good location for them.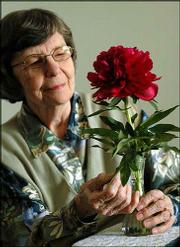 "They usually start blooming now until Memorial Day," Leonard said.
Peony plants from Russia can be found in different parts of Kansas, including Newton, Hillsboro and Gossel, Senner said. Those towns were settled by Mennonites from Russia.
Usually the peonies from Russia bloom earlier and larger than peonies normally found in the area.
Peonies range from white and yellow to red and maroon.
People interested in planting them should look for peonies with roots that have three to five eyes, which are like seeds, Leonard said. Soil should be enriched with fertilizer before planting peonies, and it's best to plant them in early fall.
"And the planting should be no deeper than one inch below the dirt," Leonard said. "And what I do is lightly fertilize them in early spring and that helps."
Copyright 2018 The Lawrence Journal-World. All rights reserved. This material may not be published, broadcast, rewritten or redistributed. We strive to uphold our values for every story published.