Marion Jones' leg of the invitational 800-meter relay Saturday at the Kansas Relays completely was irrelevant -- and maybe that's a good thing.
Jones' split on the final leg unofficially was clocked at 23.4 seconds -- not impressive considering the tailwind and her lofty standards, but enough to maintain the strong lead her Vector Sports Management team already had established.
Didn't matter, though. Her team later was disqualified because LaShinda Demus failed to cleanly hand the baton off to Stephanie Durst after the second leg.
Demus struggled to make the exchange crisply, and ended up having partial control of the baton outside of the handoff zone, making the team ineligible. Southwest Missouri State won the race in 1:37.03.
"Regardless of if it's a relay or not, you're on the track, you're in front of all these fans, you want to put up a good performance," Jones said. "Even if it was just a relay for myself, I still get that pre-race excitement, which is totally necessary."
The Vector team -- which also featured Kansas City, Mo., product Muna Lee in the opening leg -- wasn't aware of the disqualification when speaking to the media after the race, but Demus did explain what went wrong on the botched handoff.
"I had it in her hand, but I think I was trying to run with the stick out for too long," Demus said. "It was off a little bit, but she got it."
Lee, Demus and Durst all ran in other events, but the uncontested leg of the 200 was Jones' only race Saturday. Jones is coming off a miserable performance last weekend at the Mount San Antonio College Relays, where she finished last in an open 400-meter dash in 55.03 seconds.
Saturday's race didn't prove much, but her star appeal still lingers strongly. Kids screamed for her autograph, and afterward, multiple cameras were in her face. A swarm followed her around the track while she took a lap to acknowledge the fans. Even some unidentified media members requested autographs on their credentials.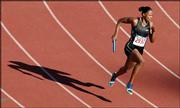 Jones wants to give her fans a reason to adore her again -- even if she's not quite where she needs to be now.
"In the overall picture, Helsinki is my top goal," Jones said of this summer's World Championships. "I've never been shy about it. I want to be the best in the world."
Copyright 2017 The Lawrence Journal-World. All rights reserved. This material may not be published, broadcast, rewritten or redistributed. We strive to uphold our values for every story published.