Hays — Plain or fancy, simple or ornate, Marlo Nansel's salt and pepper shaker collection takes up an entire wall of his apartment.
Nansel said he has more than 700 shaker sets.
They stand from 1 1/2 to over 12 inches tall and represent a remarkable array of themes.
Pairs of Santas, pudgy chefs in tall white hats, ladies in fine clothing, knights in armor and a girl hugging a puppy are some of the character-based figures.
Nansel has enough pairs of animals to populate Noah's Ark. There are ducks, geese, turkeys, penguins, owls, pigs, hippos, fish, and a bear with a beehive.
Other sets of shakers are miniature versions of household items. Coca-Cola cans stand alongside tiny bottles of Pepsi, diminutive beer bottles, cowboy boots and irons stand on Nansel's shelves.
If those don't fill the current need, there are outhouses, tombstones and a jukebox.
Nansel has been collecting salt and pepper shakers for 33 years.
"I started collecting them when I was 25. I'm 58 now," Nansel said.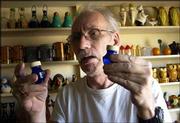 He buys them at auctions, garage sales and stores. Some of the sets have been given to him.
"I'd estimate I've got four to five thousand tied up in it," Nansel said.
Asked why he collected them all, Nansel's answer is simple.
"I like them," he said.
The most valuable set he has, by his reckoning, is a pink Depression glass set. He estimates that set is worth well over $100, but he didn't pay that much for it, he said.
The priciest set isn't his favorite, though. Two other sets nudge their way into the "favorite" category. One is a set of blue glass shakers that stands about an inch and a half tall.
"My dad dug that up from six feet underground in Burr Oak. I wish I had the original lids," Nansel said.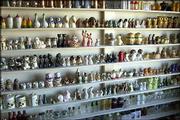 He explained that his father was replacing a sewer line when he excavated the shakers.
His other favorite set is a salt shaker horse leading a pepper shaker buggy.
"A lady friend of mine passed away about three months ago. Her son gave it to me because he said she would want me to have it," Nansel said.
Though Nansel can tell how long he's been collecting salt and pepper shakers, what he can't say is which set was the first in his now-massive collection.
"It's been too long," Nansel said.
Copyright 2018 The Lawrence Journal-World. All rights reserved. This material may not be published, broadcast, rewritten or redistributed. We strive to uphold our values for every story published.