Nebraska put on a volleyball clinic Wednesday night at Horejsi Center, and there was nothing Kansas University could do about it.
The seventh-ranked Cornhuskers looked like they might be the best team in the country as they dominated in every statistical category and disposed of KU, 3-0 (30-13, 30-14, 30-24).
"They're just early in the year playing extremely, extremely good volleyball," KU coach Ray Bechard said of the Huskers, "and, if you're not on top of your game, they'll make you look really average really fast, and they've been doing that to a lot of people the last couple of weeks."
Wednesday night, 24th-ranked Kansas joined that list of four ranked teams the Huskers (10-1 overall, 5-0 Big 12 Conference) have trounced in convincing fashion.
The Jayhawks (10-3, 1-3) didn't play well in the first two games, and, as a result, neither was close after the first few minutes. KU seemed to suffer from a hangover from its bad home loss Saturday against Texas, and it showed on the scoreboard.
"The first two games, we did not play well," said KU freshman Emily Brown, a Baldwin native. "They played well, and we did not. That never works out too well."
Nebraska used a 10-0 run midway through game one to turn a 9-6 lead into a 13-point cushion.
Game two was more of the same. A solo block by Ashley Michaels pulled Kansas to 11-10, but a 10-1 run by the Huskers instantly put the game out of reach.
"It was like a carryover of Saturday night," senior libero Jill Dorsey said, "and it's very disappointing because you want to know how your team is going to fight the next time out. I'm not saying we didn't fight, but we weren't able to come back from that.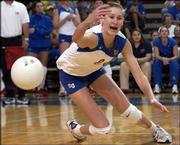 "I'm really happy with the way we competed in the third game, but then again we should have brought that same effort in game one."
Kansas actually gave Nebraska a good run for its money in game three and had the crowd of 1,305 roaring in support for most of it. Brown sparked an early 4-2 KU lead with a kill and an ace. Then junior Andi Rozum added a kill and an ace that helped maintain the advantage. Back-to-back kills by junior Paula Caten put Kansas ahead 17-15 and the match later was tied at 19-all.
It wasn't quite enough, however, as Nebraska closed with a flurry of kills from preseason National Freshman of the Year Sarah Pavan, junior middle blocker Melissa Elmer and junior outside hitter Jennifer Saleaumua.
The Huskers hit a sizzling .380 clip and outblocked KU, 16-4. That only told part of the tale, however. The Jayhawks' frigid minus-.046 hitting percentage never gave them a chance to be competitive.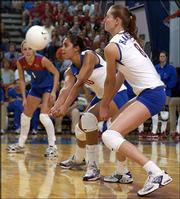 Christina Houghtelling led NU with 13 kills, while Elmer and Pavan added 11 apiece. Senior Ashley Michaels was KU's most efficient hitter at .263 and had six kills on 19 swings, and junior Josi Lima had a team-high eight kills. Brown finished with five kills and eight digs.
"Nebraska, they just don't make mistakes, so when you make mistakes it hurts you more," Dorsey said. "You've just got to cut down on your errors, and we didn't cut down our errors enough tonight."
Kansas next plays Baylor (7-7, 1-4) at 7 p.m. Saturday at the Ferrell Center.
Nebraska's No. 7-ranked volleyball team has had its way with ranked opponents this season. Here are the Cornhuskers' scores against ranked teams:Sept. 3 -- def. No. 25 Notre Dame, 3-0.Sept. 4 -- def. No. 25 Notre Dame, 3-2.Sept. 22 -- def. No. 25 Colorado, 3-0.Sept. 25 -- def. No. 11 Texas A&M;, 3-0.Wednesday -- def. No. 24 Kansas University, 3-0.
Copyright 2018 The Lawrence Journal-World. All rights reserved. This material may not be published, broadcast, rewritten or redistributed. We strive to uphold our values for every story published.