Giving big-city residents a glimpse of life on the farm could be a profitable new venture for area farmers, a new agritourism group says.
A group of 16 area farmers, businesses and members of Douglas County K-State Research and Extension have formed the Kaw Valley Agritourism Council. The group is meeting monthly and working to plan a 2005 Fall Farms Tour to attract people from Kansas City, Topeka, Wichita and other cities within a three-hour drive from Lawrence.
"There is definitely an unmet desire or potential to do this sort of thing in Kansas," said Trudy Rice, executive director of the extension and a member of the council. "There are people who are one or two generations removed from the farm, and they would like to bring their family to the farm to reconnect or to teach their children where their food comes from."
Members of the council said Lawrence was well-positioned to capitalize on the agritourism movement because it is an easy drive from Kansas City and other urban populations that would want to take a day-trip to a farm.
"We may not think we live in a really rural area, but people in Kansas City think we're a lot more rural than they are," said Karen Pendleton, an owner of Pendleton's Country Market and a council member. "My best example is that when we had our corn mazes, 75 percent of our customers came from Kansas City."
The county already has a variety of businesses competing for agritourism dollars. They include markets that sell fresh produce and flowers, pumpkin patches, orchards, berry patches, a hunting preserve, honey farms and winemakers. But Rice said the producers could benefit from a more coordinated marketing effort.
"I think we have a good group of people who understand that if we can market our entire package, it will be better for the community than if we have an attitude of each of us for ourselves," Rice said.
A date for the Fall Farm Tour hasn't been set, but Rice said the council was looking at days in September and may try to schedule it on a Kansas University football weekend to encourage people to stay overnight.
The concept is that tourists would purchase a single ticket that would allow them entrance to each farm and to take part in special events conducted at each location. Discussions are under way to partner with area restaurants that would provide chefs to demonstrate how to cook with fresh produce. Other ideas for the tour include special meals, music and food tastings.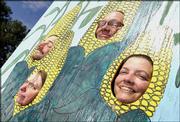 The council is hoping the tour would give visitors the information they need to visit area farms throughout the year. Farmers say the agritourism movement would be a welcome supplement to traditional farming operations.
"It can help a family stay on the farm or help them bring the next generation on the farm," Rice said. "It also can provide a wonderful retirement income for somebody who has a love of agriculture."
The Kansas Department of Commerce's tourism division has made developing agritourism a priority, a fact that gives area residents another reason to be optimistic.
"I really think the time is right for this to grow," Pendleton said. "We have the manpower at the state to help us right now, and it is definitely the hottest topic right now on how to save the farm."
In addition to the fall tour, the council also is working on:
Redesigning a brochure that lists all the area's agritourism operators.
Planning an agritourism conference that would allow area farmers and businesses to network and formulate new ideas. A date for the conference hasn't been set, but Rice said it probably would be in February.
Here's a look at members of the Kaw Valley Agritourism Council:¢ John and Sharon Vesecky, Buckets of Berries.¢ Chuck Magerl, Free State Brewing Co./Wheatfields Bakery.¢ Don Flory, Flory Foods.¢ Nancy O'Connor, Community Mercantile Co-op.¢ Mary Ross, Bismark Gardens.¢ Greg Shipe, Davenport Orchard Vineyard and Winery.¢ Larry and Janet Schaake, Schaake Pumpkin Patch.¢ Kathy Heeb, Prairie Elf Christmas Tree.¢ Mike Eckman, Eckman Gamebird Farm & Hunting Preserve.¢ Bill Wood, Douglas County K-State Research and Extension.¢ Trudy Rice, Douglas County K-State Research and Extension.¢ Karen Pendleton, Pendleton's Country Market.¢ Judy Billings, Lawrence Convention & Visitors Bureau.¢ Dennis Lawson, Frontier Farm Credit.For more information, call the extension office at 843-7058.
Copyright 2018 The Lawrence Journal-World. All rights reserved. This material may not be published, broadcast, rewritten or redistributed. We strive to uphold our values for every story published.