Kansas City, Mo. — Casey Blake figured luck came to the Cleveland Indians twice Monday night.
Their first break was getting Zack Greinke out of the game after the rookie had shut them out for seven innings. The second was Blake's two-run single off D.J. Carrasco in the eighth that triggered a come-from-behind, 6-1 victory over the Kansas City Royals.
"Greinke was tough. He changes speeds real well," Blake said. "We were glad to see him get out of the game."
Jake Westbrook (14-9) gave up one run and five hits in seven innings for the Indians, lowering his earned-run average to 3.28, third in the American League behind Minnesota's Johan Santana (2.62) and Boston's Curt Schilling (3.26).
"That's very good company," said Westbrook, who matched Greinke until David DeJesus homered leading off the sixth. "It's nice to be mentioned in the same breath with those guys. It's an honor to be right there."
Jaime Cerda (1-3) relieved Greinke with a 1-0 lead in the eighth, and Cleveland loaded the bases when Grady Sizemore singled, Omar Vizquel walked and Victor Martinez was hit by a pitch. Carrasco relieved, and Blake singled for a 2-1 lead.
"It was a slider down. It probably wasn't a strike, but thank God he threw me a slider," Blake said. "He dropped down and threw a 93-mile-an-hour sinker, and I barely got a piece of it, just enough to knock it out of the catcher's glove. You get lucky in this game from time to time."
It's the fourth time the 20-year-old Greinke has been removed while pitching a shutout. The Royals have their prized rookie on a strict pitch limit. In his previous start at Tampa, he left with a 4-2 lead only to see the bullpen give up five runs in a 7-4 loss.
"Like I said last time, the bullpen has been great for me all year," said Greinke, who threw 100 pitches. "I'm more confident in them coming in than in me staying in."
Cleveland added four runs in the ninth off Jeremy Affeldt on run-scoring singles by Omar Vizquel, Ben Broussard and Blake, and a double by Martinez.
Kansas City (57-99) must win its final six games to avoided tying the franchise record of 100 losses, set two years ago.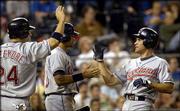 Copyright 2018 The Associated Press. All rights reserved. This material may not be published, broadcast, rewritten or redistributed. We strive to uphold our values for every story published.