It was a city showdown that made everyone sweat -- and not just because of the sunny skies Monday at Free State High.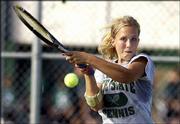 Free State eked out its closest victory ever over Lawrence High, 5-4, to improve its all-time record to 4-0 against the Lions.
A tie would have been appropriate, but the standard nine-match, varsity-dual format stripped the two squads of that possibility.
It was a back-and-forth battle from which the Firebirds emerged with the necessary five victories -- four in singles alone.
"You knew you were going to have a lot of competitive matches," FSHS coach Jon Renberger said. "I was just hoping that playing here for the first time might give us of an edge. It's not going to get any closer than 5-4."
Lawrence took the early advantage during the dual's opening doubles matches. LHS won two of the three matches, the most dramatic being an 8-7 (7-2) tiebreaker win by Lawrence's Katie Robertson and Shannon Wanna over Andrea Koch and Jamie McGovern.
Robertson and Wanna were leading 7-4, but Free State's duo charged back to force the tiebreaker. There, the two Lions loosened up a bit and used their footwork and determination to get the victory.
"They're always the most aggressive doubles team we have," LHS coach Dick Wedel said, "maybe one of the most aggressive teams I've ever had."
LHS managed just two varsity wins in singles, though -- an 8-5 Amy Bullerman victory over Koch at No. 1 singles, and an 8-1 Wanna victory over McGovern at No. 4 singles. The Firebirds took control near the end of the day, getting singles victories from Meghan Bock, Leigh Luina, Julia Guard and Joanna Loewen to claim the victory.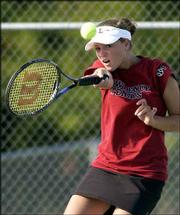 Bock and Loewen also won at No. 3 doubles and ran their record together to 7-1.
"That's real big," Renberger said. "They've been playing extremely well together."
Free State will travel today to Overland Park for the Saints Invitational at Aquinas, a highly competitive tourney that will feature the best teams from around the Kansas City area.
Lawrence will play host to a quad Wednesday. Both teams will meet again at the Sunflower League meet a week from today.
Copyright 2018 The Lawrence Journal-World. All rights reserved. This material may not be published, broadcast, rewritten or redistributed. We strive to uphold our values for every story published.