DETROIT — Ford Motor Co. on Monday launched its 2005 Mustang, the fifth generation of the iconic sports car the company sorely needs to help lift sluggish U.S. sales.
The new car -- built at the AutoAlliance International plant in Flat Rock, Mich., which Ford co-owns with Mazda Motor Corp. -- is scheduled to reach showrooms next month. The base price for a V6 version will be $19,410. The GT version with a V8 engine will start at $24,995.
The new car's design has received kudos from analysts and Mustang enthusiasts for effectively marrying design cues from the 1960s with modern enhancements. The three-element taillights, for example, harken back four decades to Mustang's origins. But the new 4.6-liter, 300-horsepower engine has more than 50 percent more power than the V8 in the classic 1964 model.
"America, your car is ready," Jim Padilla, Ford's chief operating officer, said at a gathering of workers, reporters and others at the plant. "Mustang is the exclamation point of Ford's product onslaught."
Ford is in the midst of launching nine new or revamped vehicles in 90 days, including nameplates such as the Ford Five Hundred, the company's new flagship sedan, and the Freestyle crossover vehicle.
Ford had dubbed 2004 the "Year of the Car," although the company's car sales were down 14.2 percent for the first eight months of the year, including a 10 percent drop in Mustang business, according to Autodata Corp. Overall vehicle sales were off nearly 5 percent.
In addition, Ford is in jeopardy this year of losing to Chevrolet its long-held title as the nation's best-selling automotive brand.
In a research report, Merrill Lynch's John Casesa said Ford's new products "present some opportunities and some challenges."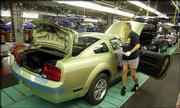 Casesa said the popularity of crossover vehicles, which typically have characteristics of a car, minivan and sport utility vehicle, and Ford's large distribution network bode well for the Freestyle. But Casesa noted that the Five Hundred will compete in an already crowded field of large sedans that he predicts "will continue to decline as a percentage of the market."
Ford has gone to great lengths to make sure the launch of the new Mustang is flawless.
The automaker invested nearly $700 million in Flat Rock's flexible manufacturing system, which makes the plant capable of building up to six different models on two vehicle platforms.
Also at Monday's ceremony, Labor Secretary Elaine Chao said the federal government would provide $6.3 million in new grants to help train auto industry workers on new advanced production techniques.

Copyright 2018 The Associated Press. All rights reserved. This material may not be published, broadcast, rewritten or redistributed. We strive to uphold our values for every story published.