Gonaives, Haiti — Doctors are performing amputations without electricity or running water while waste from this city's shattered sewage system contaminates mud and floodwaters, infecting wounds that threaten to turn gangrenous.
More than a week after the passage of Tropical Storm Jeanne, the calamity in the northwest city of Gonaives has overwhelmed Haitians and foreign rescue workers.
Thousands remain hungry. Jean-Claude Kompas, a New York doctor who rushed to his native Haiti to volunteer his services last week, says he has treated 30 people for gunshot wounds received in fights over scarce food. Another of his patients was a child whose finger was chopped off with a machete -- possibly also over food.
Jeanne killed more than 1,500 and left 200,000 homeless in the northwest city of Gonaives. With another 1,000 people reported missing, the toll is sure to rise.
"It's sad but true that the missing will slowly be started to be counted among the dead," said Brazilian Army Gen. Augusto Heleno Ribeiro Pereira, in charge of a U.N. peacekeeping force in Haiti.
On Saturday, Pereira rushed 100 Uruguayan and 50 Argentine troops to Gonaives, where gangsters and ordinary citizens have been looting food aid. They reinforced 600 international troops and police in the city.
Still, Pereira said he could use more help to ensure security of food convoys and at food distribution points, which he said increased from two to four on Monday for the 250,000 residents.
"If we had help from the National Police of Haiti, we could possibly increase the aid distribution points," he said in a telephone interview.
But Haiti's police force remains demoralized, understaffed and poorly equipped since rebels chased them from their stations, killing dozens, in a February uprising that led to the ouster of President Jean-Bertrand Aristide.
Pereira said many storm survivors are suffering from diarrhea while others, including many children, had infected wounds. Some had gangrene, and Argentine doctors had performed at least three amputations under primitive conditions, he said. Most injuries are gashes from collapsing roofs or pieces of zinc roof hidden by the mud that still covers the city, where most walk barefoot.
Many nations and aid groups have sent planeloads of relief supplies to Port-au-Prince. But getting them to Gonaives, and then to the people who need them most, is a challenge.
Normally, it would take four hours to drive the concrete road -- worn to bedrock in parts -- that runs 90 miles northward from the capital to this city. Since the storm, a 4-feet-deep lake has formed just before the entrance to Gonaives; the lake is now littered with mired aid trucks that could not make it through.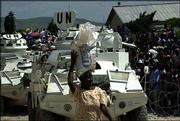 Copyright 2017 The Associated Press. All rights reserved. This material may not be published, broadcast, rewritten or redistributed. We strive to uphold our values for every story published.