Chicago — Todd Walker loves playing pressure baseball this time of year.
Walker went 3-for-4 with a walk, a two-run homer and four RBIs on Monday night, helping the Chicago Cubs extend their slim lead in the NL wild-card race with a 12-5 victory over the Cincinnati Reds.
"This is a lot of fun for me. For everybody, really," Walker said. "The playoff atmosphere brings out the best in you."
With six games left, Chicago is a game ahead of San Francisco in the wild-card standings. Houston, which beat St. Louis 10-3 Monday, is 1 1/2 back.
"We'd feel a lot better if San Francisco and Houston were about five games back," Walker said. "The good thing is we don't have to worry about what they do. If we win these next six games, we're in."
Corey Patterson, Derrek Lee and Jose Macias also connected, and Nomar Garciaparra was 3-for-3 with a walk and a pair of RBIs. Carlos Zambrano (16-8) won his fourth straight decision, allowing one run and five hits while striking out seven in 6 1/3 innings.
The Reds tagged Todd Wellemeyer for four runs in the eighth, including Adam Dunn's 43rd homer. Dunn also struck out in the first inning, leaving him four shy of Bobby Bonds' single-season mark of 189.
Walker made the playoffs for the first time in his nine-year career last season, coming up big for Boston against New York in the AL championship series. He hit .349 in the playoffs and became the first Boston player to hit five homers in a postseason.
Astros 10, Cardinals 3
Houston -- Roy Oswalt became the NL's first 19-game winner, and Houston stayed close in the wild-card race.
The Astros remained 1 1/2 games behind the Chicago Cubs.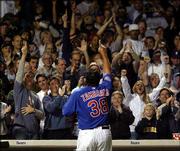 Pinch-hitter Jason Lane homered, and Craig Biggio hit a two-run double. Carlos Beltran added a two-run triple, Morgan Ensberg had a two-run double, and Jeff Bagwell and Raul Chavez singled in runs to send the Astros to their fourth win in five games.
St. Louis second baseman Tony Womack left in the seventh inning after being hit on the left arm by a pitch from Oswalt. Womack writhed in pain on the ground before coming out moments later. He was gingerly clutching his arm at his side as he was escorted back to the dugout.
Diamondbacks 3, Brewers 1
Phoenix -- Randy Johnson struck out 10 in seven innings to earn his 15th win, and Arizona snapped a six-game losing streak with a win over Ben Sheets. Johnson (15-14) walked one in his 13th double-digit strikeout game of the season and 204th of his career -- 11 shy of Nolan Ryan's major-league record.
Pirates 6, Phillies 1
Philadelphia -- Ty Wigginton hit a two-run homer, and Oliver Perez pitched 6 2/3 strong innings, helping Pittsburgh stop a seven-game road losing streak and eliminating Philadelphia from postseason contention. Tike Redman and Jack Wilson each drove in two runs for the Pirates, who have won two straight after losing 10 of 13. Perez (11-10) allowed one run and five hits, striking out five to win for just the second time in his last six starts.
Marlins 4, Expos 1
Montreal -- Josh Beckett pitched seven strong innings, and Miguel Cabrera hit his 31st homer, leading Florida over Montreal. Beckett (8-9), last year's World Series MVP, scattered four hits for his first win in four starts.
Dodgers 8, Rockies 7
Los Angeles -- Milton Bradley singled through a drawn-in infield to drive in the winning run in the ninth inning, and Adrian Beltre hit a grand slam to help Los Angeles. The Dodgers increased their NL West lead to three games over idle San Francisco with six games remaining. Colorado reliever Steve Reed (3-8) gave up one-out singles to Jayson Werth and Steve Finley, putting runners at the corners. Beltre was intentionally walked and the Rockies pulled their infield in, but Bradley slapped a hard grounder past second baseman Aaron Miles to score Werth. Yhency Brazoban (4-1) got the win after facing one batter.
Copyright 2018 The Associated Press. All rights reserved. This material may not be published, broadcast, rewritten or redistributed. We strive to uphold our values for every story published.