Spring Green, Wis. — Sen. John Kerry and President Bush tested their best debate lines Monday, mixing dashes of humor with cutting criticism in a preview of their upcoming encounter in Miami this week.
Kerry, preparing for the Thursday night debate while campaigning in south-central Wisconsin, accused the president of "not coming clean" about the war in Iraq and the state of the U.S. economy.
He acknowledged that some voters question whether it was prudent, in the middle of a war, to "change horses in midstream," but he said, "When your horse is heading down toward the waterfall, or when your horse is drowning, it's a good time to change horses in midstream."
The 6-foot-4-inch candidate added: "May I also suggest that we need a taller horse? You can get through deeper waters that way."
Bush ridiculed Kerry in a speech to a fairgrounds crowd in Clark County in southwestern Ohio and reiterated his campaign's case that the Massachusetts Democrat was an inveterate "flip-flopper."
"It's been a little tough to prepare because he (Kerry) keeps changing positions," Bush said.
Bush noted that Kerry voted to authorize the use of force in Iraq but later voted against an $87 billion funding package to equip the troops and support reconstruction in Iraq and Afghanistan. He said Kerry has complained of spending too little on Iraq reconstruction and spending too much.
"He ought to spend 90 minutes debating himself," Bush told the crowd, which roared with laughter.
The Bush camp dispatched former New York Mayor Rudolph Giuliani to Wisconsin on Monday to intrude on Kerry's debate-training retreat. Giuliani spoke to employees at the Lands' End distribution center in nearby Dodgeville. He then had a news conference at an inn about a mile from Kerry's resort. His topic? Kerry as a flip-flopper.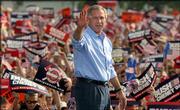 Both campaigns began airing new TV commercials Monday that reiterated the candidates' accusations on Iraq.
The Bush ad features quick, carefully edited quotes by Kerry that seemed to show him agreeing with Bush's decision to oust Saddam Hussein, but later saying Iraq was the wrong war at the wrong time.
"How can John Kerry protect us," the ad asks, "when he doesn't even know where he stands?"
Kerry's commercial ridiculed Bush's famous speech on an aircraft carrier with a "Mission Accomplished" banner behind him.
"Today: over 1,000 U.S. soldiers dead, kidnappings, even beheadings of Americans," the ad says. "Still, Bush has no plan what to do in Iraq. How can you solve a problem when you can't see it?"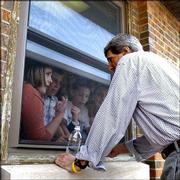 Copyright 2018 The Lawrence Journal-World. All rights reserved. This material may not be published, broadcast, rewritten or redistributed. We strive to uphold our values for every story published.