Kansas University's soccer team didn't finish any of its scoring chances Friday against Nebraska. Sunday was another story.
The eighth-ranked Jayhawks still struggled to put shots away, but they finished enough chances to knock off defending Big 12 Conference champion Colorado, 2-1, Sunday at Jayhawk Soccer Complex and pick up their first league victory.
"It was tough," said sophomore defender Holly Gault, who scored her third goal of the year. "The first one's always the hardest one. We felt like we outplayed Nebraska, and we felt like we should've won that game, but one breakdown got us. But we came back and took care of business here."
Kansas was the more aggressive team offensively, which was the key difference from the loss Friday. Its forwards and midfielders constantly were moving, trying to create lanes to the goal. It was a strategy that quickly paid off.
"I thought today our movement up front was excellent," KU coach Mark Francis said. "Our forwards were making much better runs. In our buildup, we were doing a better job finding people's feet, and consequently we created a lot more problems for them by doing that. That's something that we need to continue to get better at because we're a better team when we have better movement up front."
Jessica Kilpatrick, Amy Geha, Rachel Gilfillan, Nicole Cauzillo and Caroline Smith peppered ball after ball into the box and had the Jayhawks knocking early. Midfielder Lauren Williams placed a header just wide of the goal early. Then defender Afton Sauer almost nailed a point-blank blast while in traffic.
Kansas (9-2 overall, 1-1 Big 12) broke through at the 23:22 mark of the first half when Cauzillo fired a freekick off the CU defense. She rebounded her miss and slipped a pass to Holly Gault who blasted a shot from 15 yards out that ricocheted off a Buffs defender and into the net for a 1-0 KU lead.
Kansas used six reserves in the first half -- including sophomore Michelle Rasmussen who returned after breaking her leg last year against Missouri -- to have fresh legs on the steamy afternoon and held off two Colorado runs before halftime.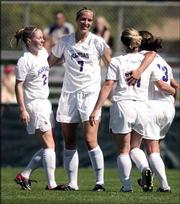 The Buffaloes' aggressive play brought more intensity out of KU in the second half, and that led to another goal.
Kilpatrick weaved through three defenders and slipped a pass to Smith who found Gilfillan in front of the goal. Gilfillan's first shot was blocked but she buried the rebound in the top right corner of the net for a 2-0 Kansas lead in the 51st minute.
The Jayhawks had plenty of chances to turn the game into a rout with a third goal but missed three times from close range.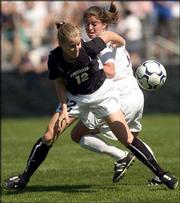 "We've got to be able to bury teams," Francis said. "When we're up 2-nothing, we've got to keep pressing and keep pressing to get that third goal and try to bury them. At 3-nothing you put it out of reach. At 2-nothing they're still in the game."
Colorado (7-2-1, 1-1) made things interesting when Ashlie Mihalcin scored at the 70:17 mark, but the Jayhawks held on for the final 20 minutes and preserved the victory.
"It was a really good win," said Kilpatrick, a Colorado native who logged her team-leading fourth assist Sunday. "They're a good team, but we just were the better team today."
The Jayhawks next play Friday when Texas Tech comes to Lawrence for a 4 p.m. contest.
Copyright 2018 The Lawrence Journal-World. All rights reserved. This material may not be published, broadcast, rewritten or redistributed. We strive to uphold our values for every story published.