LA CROSSE, WIS. — In 2000, political pundits summed up the race in three words: Florida, Florida, Florida. Here's three words to consider this fall: Wisconsin, Iowa and Minnesota.
The trio of upper Mississippi River states narrowly backed Vice President Al Gore in 2000 and are, if anything, slightly more Republican four years later, raising the possibility that Democratic Sen. John Kerry could lose one or two of them. President Bush is targeting their combined 27 electoral votes -- the same total as Florida, where a bitterly contested recount settled the last election.
"They are states we lost last time, but if we can carry one or more of them, it puts Kerry's ability to win the Electoral College in serious jeopardy," said Bush strategist Matthew Dowd.
Interviews throughout the upper Mississippi region -- from a diner in Austin, Minn., to a farmers market in Dubuque, Iowa, to a mayor's office in a Wisconsin river town -- revealed a mix of emotions and an anxious mood among voters.
They are worried about the economy, though not as much as Rust Belt voters to the East, and the war in Iraq is a constant source of concern, even anger. But more people approve of the president's performance than disapprove, polls show, and there is significant ambivalence toward Kerry.
"I think he's the man for the job because I know Bush is not," Dionne Klauer said while pushing her 16-month-old daughter through the farmers market in Dubuque. Her husband served in Iraq, a war she opposes, but she's not quite sold on Kerry.
"I don't know what he would have done differently" in Iraq, she said.
Because of population shifts since 2000 that favor Republicans, Kerry could win every state taken by Gore in 2000 and still would come up 10 votes short of the 270 needed to win the presidency. Gore lost to Bush by four electoral votes, 271-267.
Kerry is targeting several Bush states, especially Florida and Ohio. He can't afford to lose Gore's ground anywhere -- much less in the upper Mississippi, where Democrats are supposed to run as strong as the river.
The last time a Republican presidential candidate won Minnesota was in 1972, with the nation at war in Vietnam and Richard Nixon seeking a second term. President Reagan, seeking his second term in 1984, is the last Republican to carry Iowa and Wisconsin.
But voters in the rural swaths and farther suburbs of all three states are turning to the GOP. Iowa went Democratic by barely 4,000 votes four years ago, while Wisconsin was decided by just 6,000. The gap in Minnesota was slightly larger, but the state has elected a Republican senator and governor.
"If I had to bet now, I'd bet we'd win all three," said Kerry adviser Tad Devine. "Now, we'll have to throw a lot at them to win, particularly Iowa and Wisconsin, but that's fine. The president is going to have to devote a lot of resources to compete for them. I'd prefer we play on our turf."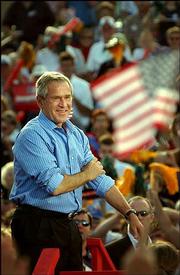 Copyright 2018 The Associated Press. All rights reserved. This material may not be published, broadcast, rewritten or redistributed. We strive to uphold our values for every story published.