Kansas University's volleyball team bounced back from its first loss of the season with a 3-0 victory over North Dakota State on Sunday, but the 24th-ranked Jayhawks had to work a bit harder than expected to dispose of the Division Two Bison.
Kansas (9-1 overall, 0-1 Big 12 Conference) played well enough in spurts, however, and took a 30-19, 30-21, 30-21 victory at Horejsi Center.
KU coach Ray Bechard described the win as "workmanlike."
"There were some moments in each game I thought we played well," he said, "but we didn't put together strong 30-point games. I think our team sensed it wasn't going to take our very best effort, but we were efficient in some areas. Hitting efficiency was OK, and we held them down to .044, and we started blocking a few balls in game three.
"Now we can put the pre-conference slate of it away. It was 9-0, and there were some good wins. Now we can totally focus on what arguably is the best conference in the country right now."
Kansas controlled game one from the beginning and used an 8-2 run midway through to take a commanding 23-12 lead. Senior middle blocker Ashley Michaels pounded six kills in the game and led KU to a sizzling .379 hitting percentage in the victory.
Game two was a total role reversal, however, as a lack of focus ravaged the Jayhawks' offense. Meanwhile, a scrappy effort by NDSU (2-10) kept things interesting. KU had four service errors and numerous hitting miscues that allowed the Bison -- who hit only .081 in the second game -- to trade points to a 16-all tie.
Back-to-back long volleys seemed to wake up the Jayhawks, though, as did a livid Bechard, who barked at his squad to start playing.
KU responded with surge led by Michaels and juniors Josi Lima and Paula Caten (two kills apiece), and Kansas closed the game on a 10-2 run.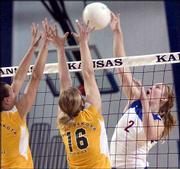 "We played fine the first game, but then we came into the second game, and we just let down," Michaels said. "We didn't give (North Dakota State) much respect at that point. (Bechard) had reason to be upset with us, but we picked it up again, and he was happier then."
The Jayhawks returned from intermission more focused and began to resemble the Jayhawks that walloped then-No. 25 Wisconsin just nine days earlier. Lima and Caten whacked two kills apiece, and they paired for two combination blocks as Kansas raced to a 16-6 lead. Bechard cleared the bench, and the KU reserves closed out the match.
Michaels led Kansas with 12 kills, and Caten added 10. Sophomore Jana Correa added seven kills in her first match back after sitting out KU's last three outings for precautionary reasons.
"It was nice to come in here and get our confidence back and get ready for Texas Tech," Michaels said.
Kansas returns to action at 7 p.m. Wednesday when it resumes Big 12 play against the Red Raiders.
Every Jayhawk played except senior outside hitter Lindsey Morris. The Overland Park native was on crutches with an unidentified injury.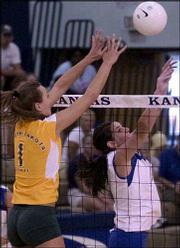 Copyright 2018 The Lawrence Journal-World. All rights reserved. This material may not be published, broadcast, rewritten or redistributed. We strive to uphold our values for every story published.