Eleven-year-old Jerry Ratcliff thinks highly of the after-school program at Woodlawn School.
"It's a great place for kids to learn and have fun," Jerry, who is in the sixth grade, told school board members earlier this week. Apparently, he's not the only student to feel that way.
Sandee Crowther, executive director of planning and program improvement for the school district, told board members last week that the average daily attendance at the after-school programs in district schools is up 21 percent, or 149 students, this year.
Woodlawn has an average daily attendance this year of 112 students in its after-school program, which is provided by the district and Boys & Girls Club of Lawrence. That's up 37 students, an increase of 49 percent, from last year's average daily attendance of 75 students.
Nine of the 13 after-school programs for elementary students are run by the Boys & Girls Club, while Hilltop Child Development Center and Stepping Stones provide the programs at four schools: Hillcrest, Prairie Park, Quail Run and Sunflower. Some students at Hillcrest, Prairie Park and Sunflower attend the program at the main Boys & Girls Club site, as do some students from Kennedy School.
Programs at all the junior high schools are in place this year as well. This is the second year for a federal grant to fund after-school programs at Central and South junior high schools and the first year at Southwest and West junior high schools.
"What we don't have are the numbers at the junior high schools in their first year," said Crowther. "It's difficult because of other activities students can participate in and the programs at West and Southwest are just getting started."
Crowther said she and others attributed the increasing attendance at the elementary school level to a new grant awarded this summer.
The $218,298 federal grant provides funding for programs at Kennedy, Pinckney and Woodlawn schools.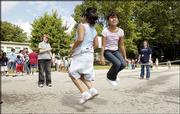 "We had to cut back numbers last year because of limited funds," Crowther told board members last Monday night.
Fund-raising efforts to sustain after-school programs are ongoing, Crowther said.
Janet Murphy, executive director of the Boys & Girls Club of Lawrence, said three of the sites where her group helps provide after-school programs had students on a waiting list. Crowther estimates the waiting list to be about 38 students at Kennedy, Pinckney and Schwegler schools. If an additional staff member could be hired for each of the after-school programs at those schools, Crowther said, the students on the waiting list could be brought into the program.
The Boys & Girls Club's main site also has a waiting list, Murphy said.
More students are attending after-school programs this year than a year ago:
| | | |
| --- | --- | --- |
| Site | Average attendance | Difference |
| Cordley | 70 | unchanged |
| Deerfield | 65 | +10 |
| Hillcrest | 24 | unchanged |
| Kennedy | 72 | +22 |
| Langston Hughes | 24 | unchanged |
| New York | 80 | unchanged |
| Pinckney | 95 | +15 |
| Prairie Park | 28 | unchanged |
| Quail Run | 20 | +4 |
| Schwegler* | 60 | +20 |
| Sunflower | 24 | unchanged |
| Woodlawn | 112 | +37 |
| Boys & Girls Club** | 116 | +21 |
| Central | 40 | +10 |
| South | 40 | +10 |
*Before-school program. Schwegler students attend the after-school program at New York School.** Students from Sunset Hill, Broken Arrow, Kennedy, Hillcrest, Sunflower, Prairie Park, CJHS and SJHS attend the after-school program at the main site.
Copyright 2017 The Lawrence Journal-World. All rights reserved. This material may not be published, broadcast, rewritten or redistributed. We strive to uphold our values for every story published.