Baghdad, Iraq — Guerrillas bombed a Baghdad shopping street full of police recruits and fired on a police van north of the capital Tuesday in attacks that killed at least 59 people and struck at the heart of the U.S. strategy for fighting Iraq's escalating insurgency.
The car bombing and shooting -- the latest in violence that has killed nearly 150 people in three days -- were part of an increasingly brazen and coordinated campaign to bring the battle to Baghdad, sowing chaos in the center of authority for Prime Minister Ayad Allawi and his American allies.
Insurgents appear to have only grown deadlier since Allawi's interim government took power in June, despite U.S. claims that Iraqi security forces are showing more resolve against insurgents.
The mounting attacks aim to wreck the centerpiece of the U.S. plan for defeating the militants: building a strong Iraqi security force able to bring some calm before elections slated for January. Doing so is also a key prerequisite for any withdrawal of American troops.
The Tawhid and Jihad group, headed by Jordanian militant Abu Musab al-Zarqawi, posted a Web statement claiming responsibility for Tuesday's car bombing.
Tuesday evening, another loud explosion rocked Baghdad near the Green Zone, where Iraq's interim government and the U.S. Embassy are located. There was no immediate word on the cause.
The morning car bombing was the deadliest single attack in Baghdad in six months, wrecking buildings and cars on central Haifa Street, leaving charred bodies and hurling body parts, shoes and debris into nearby trees and homes.
The blast ripped through stores where Iraqis were shopping and cafes where men applying for the police force were sipping tea and escaping the summer heat as they waited their turn to sign up at the nearby western Baghdad police headquarters.
In Baqouba, northeast of the capital, gunmen in two cars opened fire Tuesday on a van carrying policemen, killing 11 officers and a civilian, said Qaisar Hamid of Baqouba General Hospital.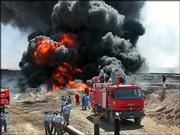 Also Tuesday, clashes between U.S. troops and insurgents killed at least eight civilians and wounded 18 in Ramadi, a predominantly Sunni Muslim city west of the capital where anti-American sentiments are high.
The military said Tuesday that three American soldiers were killed and eight wounded in separate attacks in Iraq in the past 24 hours.
Further highlighting the chaotic situation, electricity was knocked out across the country when saboteurs blew up an oil pipeline junction in northern Iraq, sparking a fire that set off a chain reaction in power generation systems.
In Cairo, the head of the Arab League warned that "the gates of hell are open in Iraq and the situation is getting more complicated and tense." Amr Moussa appealed to Arab countries "to help Iraq to overcome this crisis."
Copyright 2018 The Associated Press. All rights reserved. This material may not be published, broadcast, rewritten or redistributed. We strive to uphold our values for every story published.