Baghdad, Iraq — A U.S. soldier broke down in tears Saturday as he admitted abusing inmates at Abu Ghraib prison, receiving a lighter sentence in return for his testimony against others charged in the scandal.
Spc. Armin Cruz, 24, was the first Military Intelligence soldier convicted in the scandal, and his trial came as the investigation into the abuses appeared to move beyond the Military Police who so far have been at the case's center.
His lawyer said Cruz, a Reservist whose father was a Cuban immigrant and a graduate of the U.S. Military Academy, was suffering from stress after having been wounded in a mortar attack that killed his sergeant a month before the abuse occurred.
"There is no way to justify it," Cruz, from Plano, Texas, said after pleading guilty to conspiracy to mistreat subordinates and mistreatment of prisoners at the grim, walled prison in western Baghdad in October. "I accept full and complete responsibility."
Cruz, assigned to the 325th Military Intelligence Battalion, was sentenced to eight months confinement, reduction in rank to private and a bad conduct discharge.
The judge, Col. James Pohl, adjourned the session briefly to allow Cruz to regain his composure after he broke down during questioning by the judge.
An investigation into abuses at Abu Ghraib erupted into scandal in April when CBS' "60 Minutes II" first transmitted pictures of naked, terrified Iraqi prisoners being abused and humiliated by grinning American guards.
The others charged so far have all been low-ranking enlisted soldiers from the 372nd Military Police Company, a Reserve unit from Maryland.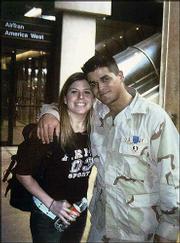 In May, Spc. Jeremy C. Sivits became the first soldier convicted in the case, admitting to four charges of abuse and receiving a year in prison, reduction in rank and a bad conduct discharge. He is expected to testify against others.
However, lawyers for the accused MPs have long contended that their clients were acting under instructions of intelligence agents and civilian contractors, who pushed them to "soften up" prisoners suspected of having information about attacks against Americans.
In recent weeks, the investigation appears to be moving beyond the MP unit, casting doubt on the Pentagon's initial finding that the mistreatment was limited to a handful of misfits in a poorly led unit.
A probe released this month by Maj. Gen. George Fay focused on the role of military intelligence personnel in the abuse scandal and identified 27 people attached to the 205th Military Intelligence Brigade -- both soldiers and contractors -- who are accused of complicity in the mistreatment.
Prosecutors accused Cruz of forcing naked prisoners to crawl along the floor and later handcuffing the men together.
The prosecution maintained that Cruz joined Spc. Charles Graner, Staff Sgt. Ivan Frederick and other defendants from the 372nd MP Company in mistreating prisoners.
Copyright 2018 The Associated Press. All rights reserved. This material may not be published, broadcast, rewritten or redistributed. We strive to uphold our values for every story published.