SPRINGFIELD, MASS. — Benjamin Franklin's milestones still mark the way on the Boston Post Road, which winds its way though the nation's history with a tale at every turn.
The route from New York to Boston was blazed by order of King Charles II of England, who demanded better communication among his colonial governors.
The first post rider galloped out of Manhattan on Jan. 22, 1673, to launch the monthly mail service with Boston. His name is lost, but he covered the 250-mile route -- through New Haven and Hartford, Conn., to Springfield and then east to Worcester and Boston -- in two weeks, arriving Feb. 5.
More than 330 years later, the beginning and end of the Boston Post Road are tangled in urban traffic. In places, the old Indian trails the anonymous rider followed are now superhighways.
But in the middle, the Post Road wanders past the villages and historic inns of central and western Massachusetts. In some places it slips off the pavement altogether to become once again a trail through the New England woods. For leaf-peepers and other autumn travelers, following its path can be an interesting way to enjoy the season. And thanks to Franklin, you can, with a little investigating, still follow the route that George Washington took when he rode north to take command of the Continental Army. Years later, Washington followed the same path on his victory tour after being elected as the nation's first president.
Suspicious minds
Franklin was put in charge of the colonial postal system by the British government in the mid-18th century. His first challenge: overcoming the suspicions of his Yankee customers, who were sure they were being cheated on postage that was assessed by the mile.
So in the summer of 1753 Franklin set out on the Boston Post Road in a carriage with a homemade odometer attached to the wheel. Every mile a stake was driven into the ground. A crew followed behind, setting stone markers.
Most of the red sandstone markers show the distance from Boston. Others also include the distance to Springfield.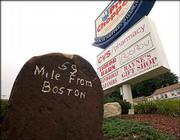 "I drove past them for years without noticing them," said Brian Hamil, of Warren, who has posted photos of the stones on the Web. "But they are remarkably accurate. And once you start looking, you get hooked. It's like unraveling a mystery."
Two decades after Franklin passed this way, the galloping hoofbeats of a young post rider, Israel Bissell, thundered along the Post Road as he raced across five colonies to raise the Patriot forces after the first shots of the Revolution rang out at Lexington and Concord.
Bissell covered the 345 miles to Philadelphia -- where the Continental Congress was meeting -- in five days and six hours.
A good stretch
Boston and other communities still have a few milestones. But the longest unbroken string of the 250-year-old markers is the 16 between Leicester, just west of Worcester, and Warren.
It's actually 17, if you count the one now in the custody of Brookfield police. That milestone was returned years ago by a remorseful man who'd swiped it decades earlier as a teen.
"You could spend a few hours or weeks on that stretch of the Old Post Road alone," said Bob Wilder, an amateur historian from Brookfield who has been researching the Post Road for 40 years.
Some are in barnyards. Others are set against stone walls, beside country roads or in front yards neatly landscaped with flowers.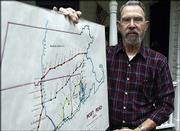 West Brookfield has cemented the stone on its Town Common into a miniature memorial wall. Civic leaders had the mileage whitewashed -- 68 miles from Boston -- so it stands out against ancient red sandstone.
No. 69, now barely legible, stands in front of W.H. King Realty on Route 9. No. 70 is tucked into an overgrown juniper bush on Route 67, about a half-mile across the town line into Warren.
No. 59 is at a bus stop in downtown Spencer, by the parking lot of the Price Chopper supermarket.
And everywhere there's a story. Not far from the 67-mile stone, on Foster Hill Road in West Brookfield, was the scene of a 1675 Indian attack.
On East Main Street in Brookfield there's a granite marker, twined with poison ivy, that marks the well where Bathsheba Spooner had her husband murdered in 1778. She was later hanged with her accomplices.
Bring a good map. No guidebooks exist to mark the way. And if you get lost as the Boston Post Road leaves the state highway to wander amid country lanes and old stone walls, you won't be the first.
Boston Post Road: For detailed directions on following the original route of the Boston Post Road, visit web.mit.edu/spui/www/boston/oldpost.html. Information about local stretches can be found at www.samnet.net/esso/Fmm.htm for Warren; www.westbrookfield.org/oldpostroad.htm for West Brookfield; and www.brookfieldma.us/History.htm for Brookfield.Markers: The longest stretch of surviving mile markers along the Boston Post Road -- installed in 1753 by Benjamin Franklin -- is west of Worcester. Most of the red sandstone markers list the mileage from Boston and are on the north side of the road. Here are some of them:¢ No. 52 is in a retaining wall on Route 9 in Leicester, across from Hank's Marine.¢ No. 56 is on Route 9 in Leicester across from a drive-in theater.¢ No. 57 is in the dooryard of the Spencer Country Inn, on a hill overlooking Route 9.¢ No. 59 is in downtown Spencer, on a sidewalk near the entrance to the Price Chopper supermarket's parking lot.¢ No. 60 is near a cemetery and across from a yellow sign on Route 9 in Spencer.¢ No. 62 is in the end of a retaining wall on Route 9 in East Brookfield, near a metal sign erected by the local historical society.¢ No. 63 is on Route 67 in East Brookfield across from a bowling alley and golf course.¢ No. 66 is by a horse corral on East Main Street in Brookfield.¢ No. 67, which also lists the distance from Springfield -- 32 miles -- is on Foster Hill Road in West Brookfield, a tenth of a mile east of George Allen Road.¢ No. 68 is on the West Brookfield Town Common on Route 9.¢ No. 69 is in front of W.H. King Realty on Route 9 in West Brookfield.¢ No. 70 is in a big juniper bush by a white house on Route 67, about a half-mile into Warren.¢ No. 71 is on Washington Street in Warren, near the intersection with Burbank.¢ No. 72 is set into a low memorial wall in front of the Federated Church across from the Warren Town Common on Route 67.¢ No. 73, which also lists the mileage from Springfield -- 24 -- is on tiny Bay Path Road in Warren, in a farm yard planted with flowers where a tavern, with escape tunnels in case of Indian attack, once stood.¢ No. 74 is by a stone wall across from some new homes on Reed Street in Warren.
Copyright 2018 The Associated Press. All rights reserved. This material may not be published, broadcast, rewritten or redistributed. We strive to uphold our values for every story published.